Room Alert Manager: Initial Launch & A Future Roadmap For The Best Environment Monitoring Features
Introducing Room Alert Manager
We are excited to announce that our new Room Alert Manager software has officially launched!
Earlier this year, we announced the development of the Room Alert Manager monitoring platform as our next-gen local monitoring software platform. For many years, Device ManageR was our primary software for local Room Alert alerting, reporting, graphing and management. Though it has been an incredible platform widely used by thousands of customers since its introduction in 2008, we now have invested a massive engineering effort into even better service for our customers. A couple of months ago, we provided a more detailed look at the features that will be included in the initial launch of Room Alert Manager, such as easier alerting and firmware updates. Room Alert Manager takes all the popular features that we know our customers enjoyed in Device ManageR and adds even more useful capabilities to take proactive environment monitoring to the next level. Room Alert Manager brings our dependable environment monitoring to a platform that is more user-friendly and robust than ever before. Room Alert Manager is a whole new interface with new alerting features and much more! Room Alert Manager has a similar look and feel to our online Room Alert Account service, with more feature releases coming regularly throughout 2021.
What To Expect In The Initial Launch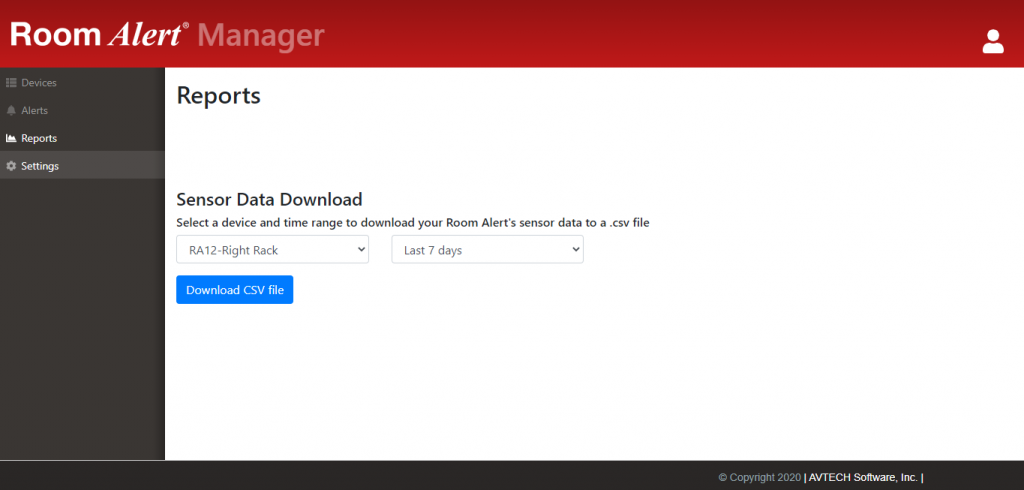 On your first installation, users will notice that Room Alert Manager is extremely responsive. You can access it on any device such as a computer, tablet, or mobile phone. You'll also notice our team pulled heavily from the great usability and layout in our trusted Room Alert Account. None of this was previously available in Device ManageR. When you first log in, by default, you'll see your Device Inventory, a list of your registered devices. For an improved user experience, you can filter this list by discovery status, firmware version, etc. For an improved user experience in terms of reporting, we're logging all sensor data so users can select any registered device and download a CSV file. Soon users will be able to use that sensor history to generate interactive reports similar to what is possible in Room Alert Account. Another big improvement is firmware updates are effortless in Room Alert Manager. Simply click "Update Firmware" next to the correct device, click "Update Now" in the new window that pops up. Now you're immediately downloading and installing the newest firmware.
What Is New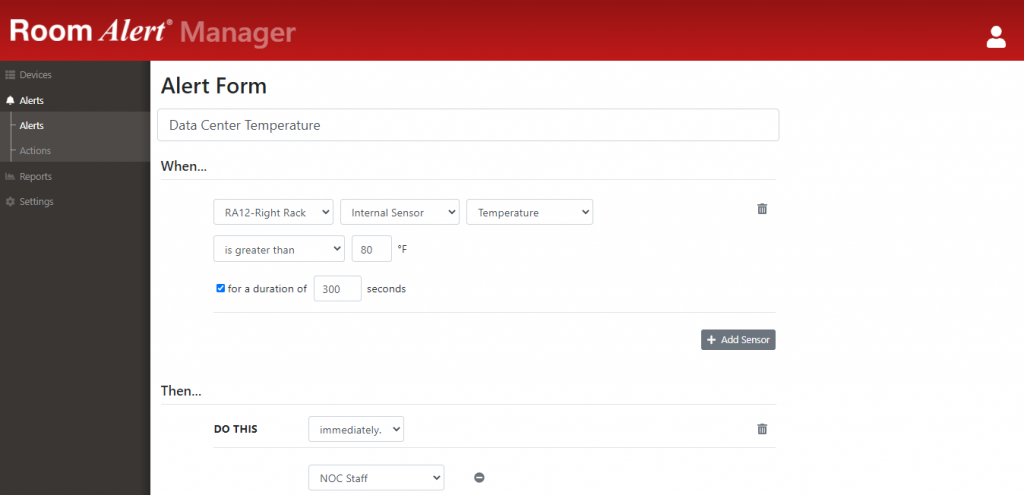 Two new features coming in the initial launch of Room Alert Manager are the addition of users and groups. In Room Alert Manager, we have multi-level users. Now when adding new users, you have 3 options to pick from under "role": viewer, manager and administrator. Viewers have limited read-only access to devices and settings in the group they are assigned to so they cannot edit or create information. Managers have the ability to read and write to devices and settings in the group they are assigned to, allowing them to change device settings that they have access to. Administrators have full access across the application.
Groups are where the benefits of multi-level users really come into play. Users can create subgroups to categorize their devices. This hierarchy allows you to assign users and devices to specific groups. This feature allows users to be able to fully customize exactly what people are given access to such as view-only or editing etc.
Additionally, alerts are becoming even easier to set up, but with more options than ever before, because Room Alert Manager is walking you through the process in a step by step workflow. You'll find the layout familiar if you have previously set up alerts in your Room Alert Account. Within alerting, we have features like multiple threshold alerts where users can assign multiple different threshold criteria on the same alert. Users can also customize durations on alerts, meaning the alert must be in an alarm state for whatever amount of time you set, so you're only notified when necessary. Advanced alerting will also offer the option for an escalation of actions. This gives users the ability to create a chain of actions that will take place as a triggered alarm remains in progress, so you're notifying your staff in the correct order.
Room Alert Manager 2021: A Future Roadmap
AN UPDATED ROOM ALERT MANAGER ROADMAP AS OF JANUARY 8, 2021 IS NOW AVAILABLE BY CLICKING THIS LINK
Beyond the initial Room Alert Manager release, there will be a series of feature releases that will be coming out in 2021. Here is our general overview for 2021 Room Alert Manager feature releases: 
January / February – Reports & Dashboards 

The first Room Alert Manager feature release will improve

reports & dashboards

. Room Alert Manager will offer a

dashboard

view similar to what you've come to expect in Room Alert Account. At a quick glance, users will have an organized overview of

triggered alerts

,

reports

, and

alarm history

. Users will be able to favorite reports to pin in their dashboard, as well as customize reports with options such as

report overlays

. We're also providing External DB Support for services such as

MySQL

,

SQL Server

and

PostgreSQL

and support for

Light Towers

and

Relays

. 

March / April – Advanced Alerting

Our second feature release will provide

advanced alerting

capabilities. Here we're including support for

GSM modems

, allowing users to create custom quiet times, as well as repeat notifications and custom alert notifications. Custom quiet times means users can set individual user(s) or alert(s) on a kind of "do not disturb" mode so you're only notified when necessary. Repeat notifications allow users to schedule alerts to repeat. Custom alert notifications allow users to customize the content within their alerts. 

May / June – Authentication & Security

Our third feature release will bring

authentication & security

improvements. Our advanced authentication and security support will include security measures such as SAML 2.0, SSO, MFA/2FA. Here we're also simplifying the process for

Room Alert 3 Wi-Fi

firmware updates directly within Room Alert Manager.
We're so excited to share the future of Room Alert Manager so our Room Alert users can start enjoying the platform that our engineering team has put in a tremendous amount of work to develop from scratch. Room Alert Manager is our one-of-a-kind platform that ensures superior environmental monitoring to match the amazing quality of our Room Alert devices, sensors and accessories. 
Thank you to our new and existing customer for trusting Room Alert to help prevent costly downtime to your organization, and we hope you enjoy proactive environment monitoring – Room Alert Manager from AVTECH!
Contact Us
If you have any questions about Room Alert Manager or advanced environment monitoring with Room Alert, please email us at Sales@AVTECH.com. You can also visit our YouTube Channel or Contact us today for a free consultation with one of our dedicated Product Specialists!