Don't Get Flooded By Downtime…Save Big With Our Flood Promo!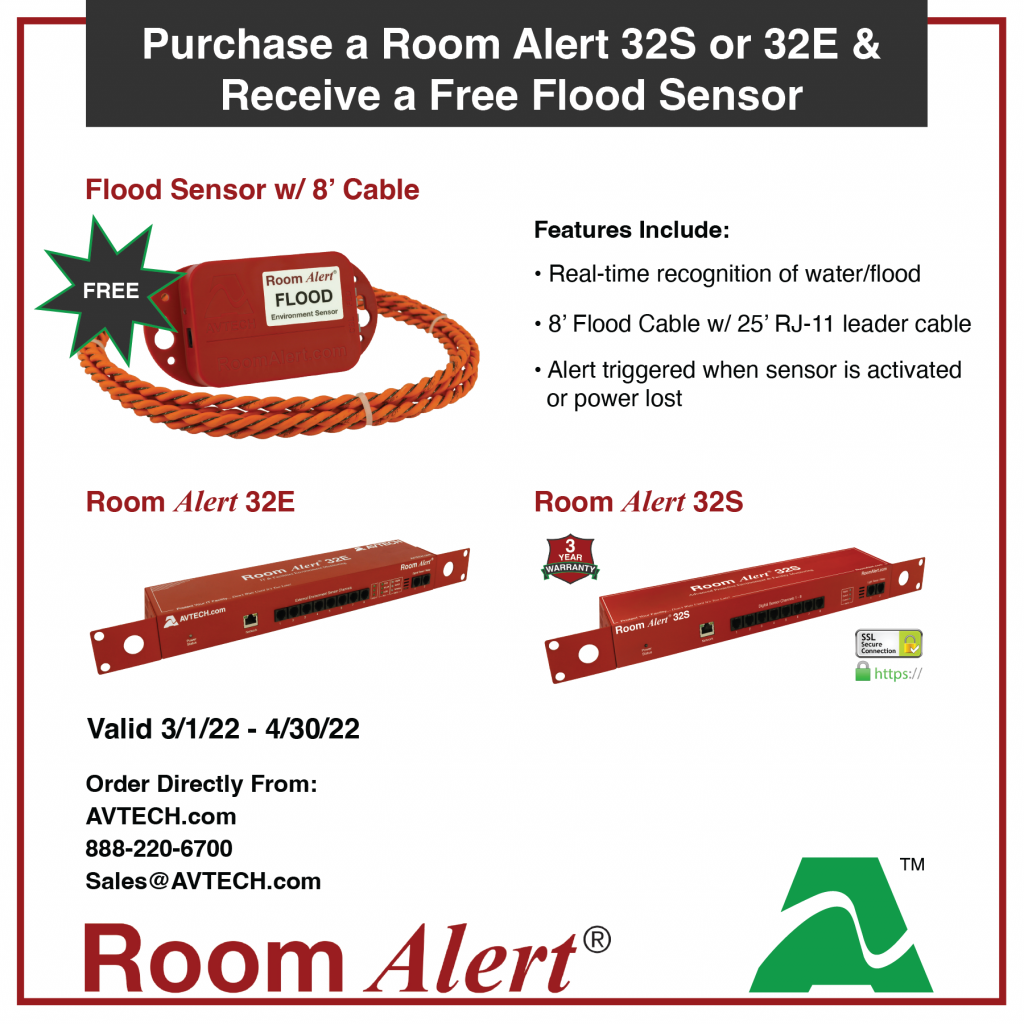 Did you know that water damage is 10 times more likely than fire damage? Water leaks, flooding and mold damage can quickly add up to thousands of dollars in repairs or worse, irreversible disaster. The best way to get all-encompassing protection from potential water damage is with Room Alert environment monitoring. To help make Room Alert even more affordable, we are offering an incredible promotion on our flood sensors. 
Now is the perfect time to save money and start monitoring for the 30% of downtime caused by environmental threats such as water damage. From now, March 1st, until April 30th 2022, we are offering a free Flood Sensor w/8′ Cable (a $265 value) with the purchase of a Room Alert 32S or Room Alert 32E. 
As we learn to adjust to a world with COVID, it is critical to reflect on how business has changed. Perhaps now you have employees who work a hybrid schedule, and are not on-site often enough to monitor environmental conditions. Or maybe you have facilities that are entirely unmanned for a considerable amount of time. Even if nothing has changed, chances are you do not have a facilities manager on-site 24/7 to oversee if a pipe bursts, roof begins leaking, or severe weather leads to flooding.  
With spring showers quickly approaching for people living in various parts of the world, now is the time to prepare your Business Continuity efforts and take proactive measures towards preventing water damage with Room Alert.
This promotion ends promptly on April 30th 2022 and will not be extended…order now to take advantage of this offer!
Contact Us
If you have any questions about environment monitoring with Room Alert, please contact us today through email at Sales@AVTECH.com, through our online Live Chat service, or via phone 401.628.1600.   
You can also visit our YouTube Channel and read our articles here to learn many other reasons why you need Proactive Environment Monitoring with Room Alert. 
Don't wait until water damage, changes in temperature and humidity, mold, and more impact your organization! Install Room Alert today and have peace of mind tonight, knowing your facility is protected by the leading product for "IT & Facilities Environment Monitoring" worldwide.