3 Ways To Improve Worker Safety With Room Alert Environment Monitoring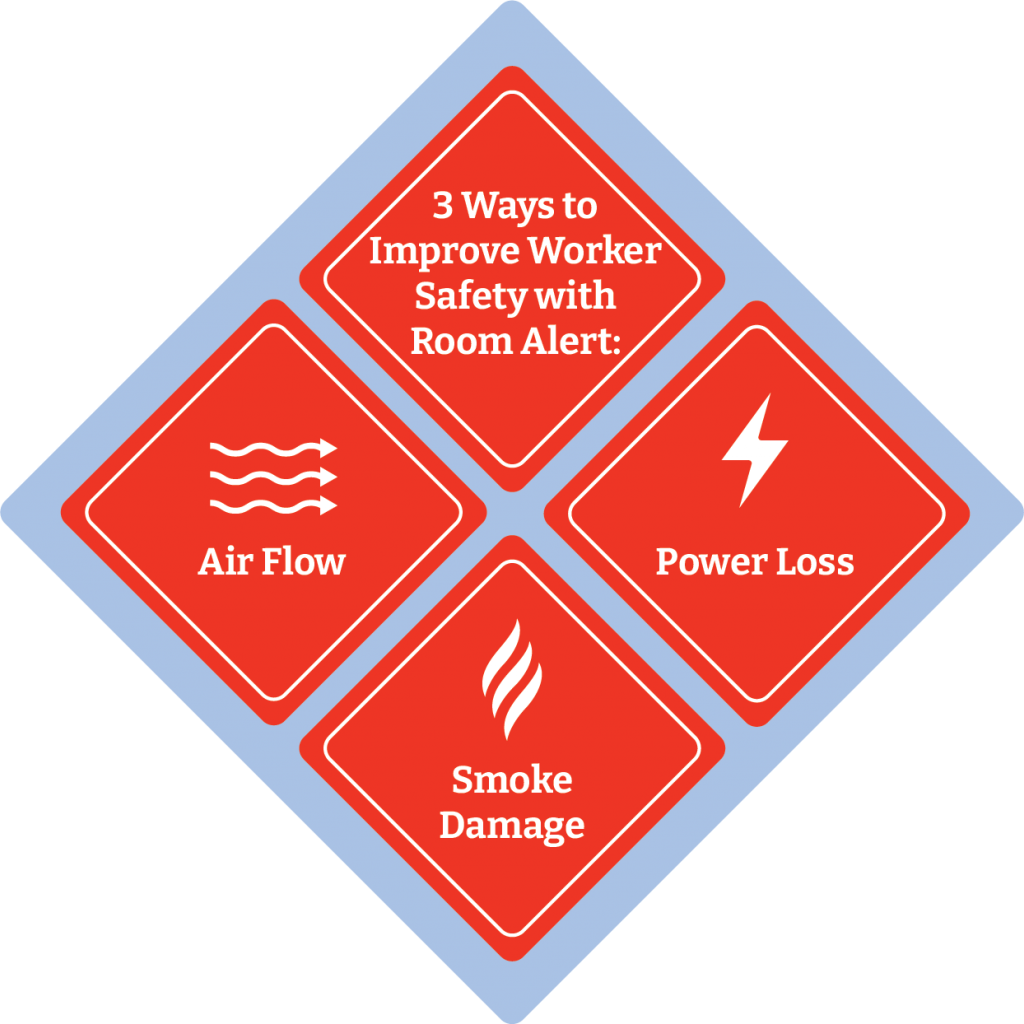 In our most recent worker safety article, we discussed how important high temperatures & flood monitoring is to keeping employees safe and complying with federal guidelines. Monitoring for environmental conditions such as temperature, humidity, and water/flooding are a great start to preventing costly downtime and damage. However, for employers, there is much more to consider when it comes to providing a workplace free of known health and safety hazards, as stated by OSHA. Here are 3 more environmental concerns that every employer should be monitoring in order to proactively identify potentially unsafe working conditions and take corrective action before serious workplace injuries occur.
Air Flow
Air Flow is crucial for employers to be aware of because poor air flow can significantly impair your employees' cognitive functioning and lead to headaches, fatigue, trouble concentrating, respiratory problems and more. Our Digital Temperature & Air Flow Sensor is a professionally designed sensor that monitors air flow (or lack of air flow) for fans and vents, such as HVAC vents, internal/external server exhaust fans, cooling fans, and dehumidifier fans. The Digital Temperature & Air Flow Sensor can be easily installed anywhere that poor air flow could negatively affect your employees. 
For example, the Digital Temperature & Air Flow Sensor can detect if the A/C or heating system turns on or off. Also, you can install Room Alert for HVAC monitoring. Employers can put one Digital Temperature & Air Flow Sensor on each end of an HVAC to help monitor for any discrepancies in air flow from different points in the facility. This will help ensure there is equal air flow everywhere and therefore improve worker safety.
Power Loss
A sudden and unexpected loss of power can lead to extremely unsafe work conditions. Many health and safety hazards can quickly arise if the lights go out, the heating system or air conditioning turns off, or the hot water/ running water shuts off. Workers can accidentally hurt themselves in the dark or suffer heat-related illnesses such as heat stroke. Heat-related illnesses are the leading cause of death among all weather-related workplace hazards. The best way to prepare for any unforeseen power outages is with the Power Sensor. The Power Sensor provides real-time recognition of a power source going off or coming on at the outlet it is connected to. 
For example, the Power Sensor is helpful in monitoring the power supply of a main, 3-phase, UPS or backup generator source. You can install the Power Sensor to make sure that your workers are in a safe work environment that is receiving power, along with proper heating and cooling, as well as running water.
Smoke Damage
The presence of smoke in your work environment can lead to coughing, trouble breathing normally, irritated eyes, a scratchy throat, chest pain and more. It is important to have smoke detection tools in your facility to prevent the risk of your workers being exposed to smoke. Our Smoke Sensor w/Escape Light provides real-time recognition of smoke, with a bright escape light and loud buzzer that are triggered if the sensor is activated. 
For example, if the Smoke Sensor w/Escape Light detects a fire or the presence of smoke, the sensor will illuminate and trigger a loud buzzer. This immediate notification complements your primary building fire safety system and allows you as much time as possible to quickly keep workers safe from smoke damage and backup critical systems or equipment.
Whether you need to satisfy federal mandates or your employees directly, make sure you are considering all of the environmental factors that could pose health and safety hazards for your workers. Install Room Alert advanced and secure environment monitoring to prevent serious workplace injuries or even death from occurring within your organization.
Contact Us
If you have any questions, please contact us today through email at Sales@AVTECH.com, through our online Live Chat service, or via phone at 401.628.1600.          
You can also visit our YouTube Channel and read our articles here to learn many other reasons why you need Proactive Environment Monitoring with Room Alert.