Why Temperature Monitoring Is Important & How To Get Started With Room Alert
Did you know that half of all environment-related downtime is due to temperature? Temperature is, without a doubt, the most critical environmental condition for businesses to be proactively monitoring because it accounts for the most frequent and most extensive damage. Many government agencies and professional associations such as the CDC, EPA, ASHRAE and OSHA recommend or even require facilities to have temperature monitoring in place to keep people and equipment safe. Whether you are concerned about just temperature, temperature along with a few other environmental conditions, or anywhere in between, Room Alert has you covered.
The Best Temperature Monitoring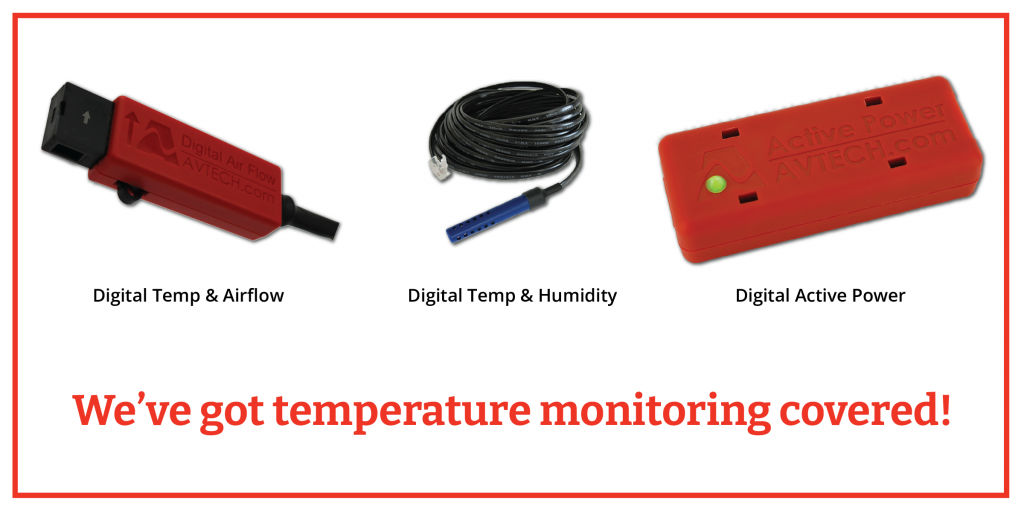 Room Alert is the most advanced and secure solution for monitoring temperature as well as humidity, flood, power and many other environmental threats. Room Alert is perfect at providing peace of mind because having Room Alert installed is like having eyes on-site at your facility 24/7. Room Alert will promptly alert you, via text or email notification, to any environment changes that could negatively impact your assets, employees, customers and reputation. 
However, with such a wide variety of temperature sensors to choose from, it can be tricky to navigate exactly what Room Alert hardware is best for your unique application. Here is a quick breakdown of all of the temperature sensors that Room Alert has to offer!
Our Digital Temperature & Humidity Sensor is a high-value sensor that monitors 4 different environment conditions; temperature, humidity, heat index and dew point. The humidity monitoring capabilities of this sensor can help increase employee productivity, customer comfort/ satisfaction, and prevent dangerous mold and mildew growth. Heat index (feels like temperature) monitoring is crucial for following OSHA compliance standards as well as providing a safe environment that protects employees and customers from heat-related hazards. Dew point monitoring is also vital to monitor because high dew point levels can lead to moisture in the air which can damage equipment, negatively impact the function of workers and more. The Digital Temperature & Humidity Sensor is one of our most popular sensors for effective temperature monitoring, and for good reason. 
Our Digital Active Power Sensor w/Temperature is a patented, award-winning sensor that monitors power status and temperature. It was designed to monitor servers and sensitive equipment in data centers. However, our Room Alert users have also found this sensor helpful in monitoring HVAC equipment, monitoring sump and well pumps for power, and even refrigerators, freezers or other cold storage. Best of all, the installation is extremely easy. Simply strap it to any AC electrical cord. There is no need to unplug the device, modify the cord, or require an electrician to connect within a main panel. 
Our Digital Temperature Sensor monitors temperatures from -67 to 257 degrees Fahrenheit and/or -55 to 125 degrees Celsius. It comes in 25', 50' and 100' cable length options and is best suited for instances where temperature is the only environmental concern that could lead to costly downtime. 
Our Digital Outdoor Temperature Sensor provides the same precise temperature monitoring as our Digital Temperature Sensor and comes in the same variety of cable lengths. However, this sensor has an external silicon coating, making it resilient enough for temperature monitoring outdoors or in other harsh environments. The Digital Outdoor Temperature Sensor is a great option for monitoring heat-related worker safety concerns at construction and landscaping sites, mail and package delivery and more. 
Our Digital Fluid Temperature Sensor monitors fluid temperature from -67 to 257 degrees Fahrenheit and/or -55 to 125 degrees Celsius. This sensor features a special tube containing Propylene Glycol, which has extremely low freezing and high boiling points. It is also recognized as safe by the U.S. Food and Drug Administration. Our Digital Fluid Temperature Sensor is the ideal solution for monitoring refrigerated, frozen or other cold-stored items by tracking their temperature instead of the surrounding air temperature. Many of our customers use this sensor to prevent costly downtime in their medical facilities that store sensitive vaccines, in their aquariums, and even in critical refrigerators in ambulances. 
Our Digital Temperature & Air Flow Sensor is a professionally designed sensor that monitors ambient temperature as well as air flow (or lack of airflow) for fans and vents. This multi-use sensor can monitor a wide range of -40 degrees Fahrenheit to 185 degrees Fahrenheit (-40 degrees Celsius to 85 degrees Celsius). The Digital Temperature & Air Flow Sensor can also calculate the CFM (Cubic feet per minute) which is a measure of volume used to indicate an air compressor's output rate in terms of cubic feet of air per minute of operation. This sensor option is the perfect solution for monitoring HVAC vents, internal/external server exhaust fans, cooling fans, and dehumidifier fans in data centers, warehouses, residential spaces and more. 
Our Digital Extreme Temperature Sensor offers our widest range of temperature monitoring from -328 degrees Fahrenheit to 932 degrees Fahrenheit (-200 degrees Celsius to 500 degrees Celsius). This powerful sensor was designed for both extreme high temperatures, such as a manufacturing company with massive industrial ovens and furnaces, as well as extreme low temperatures, such as a pharmacy with medication stored in refrigerators and freezers. The Digital Extreme Temperature Sensor is an affordable and reliable tool that delivers proactive temperature monitoring in even the most extreme of environments. 
We have a comprehensive list of Room Alert sensors available to fit every application. If you are unsure of what temperature sensor(s) will best prevent costly environmental downtime in your facility, please contact us. Our dedicated product specialists are happy to work with you to understand your unique needs and help you get the most from your Room Alert investment.
Contact Us
If you have any questions, please contact us today through email at Sales@AVTECH.com, through our online Live Chat service, or via phone at 401.628.1600.       
You can also visit our YouTube Channel and read our articles here to learn many other reasons why you need Proactive Environment Monitoring with Room Alert.