National Food Safety Month and Temperature Monitoring
September is National Food Safety Month, and a good time for all restaurants and food storage facilities to review their temperature monitoring in their freezers and refrigerators.
We have a wide range of users in the food industry who base much of their temperature monitoring around Room Alert and our sensors. Room Alert has proven to be a stable monitoring environment for freezers, refrigerators, and storage alike, while our two monitoring platforms Device ManageR and RoomAlert.com help provide instant alerts and reports on temperature variances.
Food safety is especially important right now, given the recent extreme weather we've seen here in the United States. Power loss due to hurricanes and strong storms can impact food safety, and it's important for organizations to know the status of their stored food in the event of inclement weather.
In the event of a power loss, refrigerators that remain closed can keep food cold for around 4 hours, while a closed freezer should be able to hold its temperature for around 48 hours.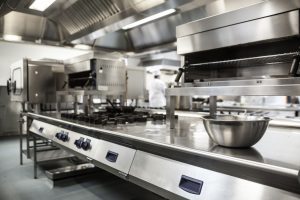 It's important to remember this information in the event your organization loses power, even if only temporarily. This way, you can note the time you received an alert from your Room Alert monitor, and know when food is most likely past it's safely stored temperature.
Even when major power loss isn't a concern, it's still good to know if there are temperature variances within your freezer or cold storage unit. Our food safety case study provides examples of what can happen when you think your food is stored at the correct temperature, but inspections show that it isn't. With Room Alert, you'll never have to encounter a situation where your organization may be at risk.
Food processing plants also need to have strict tolerances in the temperatures their food is stored at throughout their entire process. Many industry requirements must be adhered to at all times, otherwise the revenue loss from spoiled food (and the outcome if it is accidentally served) could be catastrophic. A documented and tested temperature monitoring solution including Room Alert, sensors such as Active Power and Digital Fluid Temperature, and customized alerts in our monitoring platforms (or any other SNMP monitoring package) can help any organization maintain food safety and adherence to industry requirements.
As part of National Food Safety Month, make a point to review your restaurant or food storage temperature monitoring plan. Make sure that you have alerting in place to notify you if any factors place your freezer, refrigerator, or cold storage unit in jeopardy. Now is the perfect time to clean, inspect, and test any sensors you have set up to ensure they're working at optimal levels.
If your organization does not have a temperature monitoring solution in place, let us know! Our team will be happy to let you know how we've helped countless other organizations across over 180 countries monitor their own food storage, and come up with a customized plan to help your food stay safe. You can call us at 888.220.6700 or 401.628.1600, email Sales@AVTECH.com, or take part in a Live Chat with one of our product specialists.
Don't wait for inclement weather, a power outage, or failing equipment to implement a temperature monitoring plan to protect your food storage. Use National Food Safety Month as a step-off to make sure you'll be protected for years to come, and put the AVTECH Advantage to work in your business today!
Note: The former GoToMyDevices online monitoring and management platform was migrated into RoomAlert.com in December 2017. For more information, please see our announcement article and FAQ.