Layering Advanced Alerting Features For All-Encompassing Protection
Our Room Alert Account services, such as commenting on alerts, help you and your entire organization maintain an open line of communication to problem-solve when there are changes in the environment within your facilities. These features are especially beneficial when you're short-staffed, working remotely, communicating among a large group of people and so much more.
Our comprehensive Room Alert Account dashboard offers so much more than commenting on alerts to keep you and your employees connected. Our Room Alert products and services are dedicated to helping users proactively prevent and minimize costly damages related to the 30% of downtime that comes from high temperatures, water damage, poor airflow and more. Our advanced alerting features can be utilized through your Room Alert Account portal via any internet-accessible device at any time.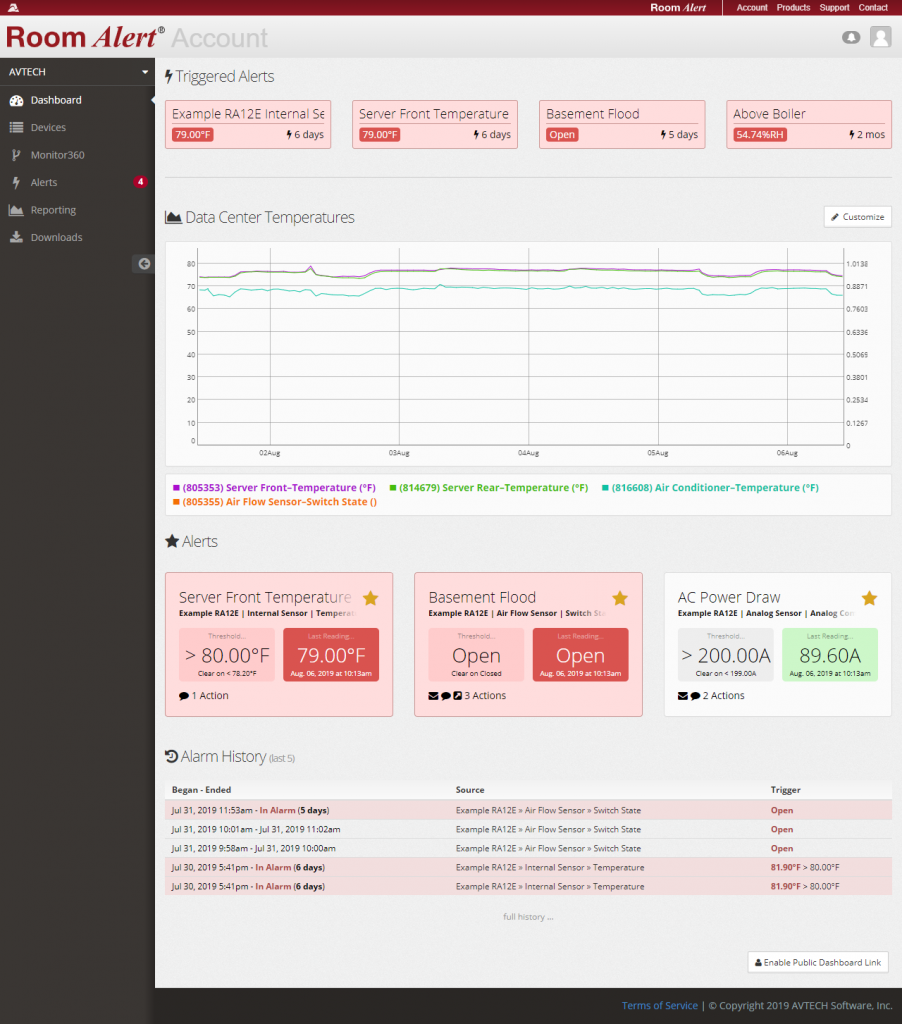 If your organization has Room Alert Account services on the Professional tier or higher, you have access to the following advanced alerting features in your RoomAlert.com Account:
We designed all advanced alerting features to work together to provide our users with the best, most complete proactive environment monitoring ever! Let's say, for example, you are an IT staff member for your business's data center. It's a Thursday night and you're off-site. You receive a text message from your Room Alert Account that notifies you that an alert was triggered because the Flood Sensor with 8' Cable connected to your Room Alert 32S detected the presence of water in your data center. Here's how advanced alerting in your RoomAlert.com Account will work together to help prevent costly damage, downtime and potential bankruptcy.
While you received a text, your Room Alert Account also simultaneously emailed you to guarantee you're aware of the potential threat. Adding multiple actions to your alerts ensures that you are notified in several ways so you can promptly address the environment conditions in your data center. Assigning multiple actions to an alert is just one advanced alerting feature that helps prevent the extent of damage due to the environment conditions in your facility.
Additionally, you have multiple recipients included on this alert which further strengthens your business continuity and disaster recovery plans. Now, because you're off-site, you can have peace of mind knowing that the rest of your IT department also received this alert of potential water damage in your data center. Thanks to your advanced Room Alert Account services, you don't need to risk water damage or flooding potentially worsening during your travel time to work. You can remain off-site and one of the other recipients assigned to this alert can handle the situation. Everyone in your IT department can work together to make informed and timely decisions.
Now that you and your coworkers are aware of the detected presence of water in your data center and someone is addressing it, your advanced Room Alert Account services can still help. To go a step further, you can configure the actions to repeat. After you experiment with what combination of recipients and alerting actions work best for your needs, you can set that exact customization on repeat. Let's say you learned that emailing the IT manager is the best method and person to notify of temperature changes in your data center. Now this action is set to repeat for future incidents.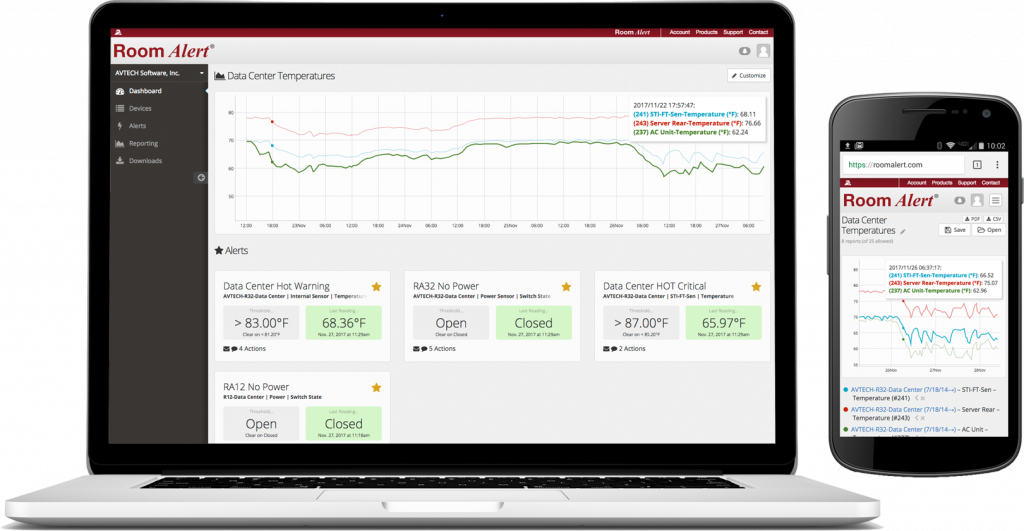 However, maybe your IT manager doesn't want to receive any form of alert notifications between 1 and 3 in the morning. Users can schedule "quiet times" with specific time ranges customized for each alert. Let's say an alert for your Motion Sensor is triggered at 2 am. Your IT manager will not receive a notification but the alert will still trigger and consequently be listed in the Alert History, just in case you ever need it for future reference.
Maybe your organization wants to always be proactive and not use quiet times. Users can similarly take advantage of delayed actions. Delaying actions means that your email, text or HTTP post notifications will only send after an alert has been in an alarm state for a specific, extended period of time. For example, if your IT staff wants to be notified if your Room Entry Sensor determines someone forgets to close the data center entrance, you can delay all alert actions for 10 minutes. Now, if the door is opened and closed within 10 minutes, no notifications will be sent. However if the door is left open, you and all other recipients will be notified after 10 minutes has passed.
Perhaps you and your IT manager have all the advanced alerting features you want in place. How can your Room Alert Account services continue to support your data center after you've already been properly notified and subsequently addressed potential costly downtime? One way is to have your users acknowledge triggered alerts. By acknowledging triggered alerts, you are able to promptly notify all IT staff that either you or someone else has addressed the situation.
You may additionally choose to add a note to document who is responding to the alert and how they are responding. Any of your organization's assigned users can see acknowledged alerts, the user who acknowledged it, the time and date, and any notes that were posted. The combination of acknowledging alerts and adding important notes helps strengthen your business continuity, disaster recovery and risk management plans. With trial and error, you can determine what exact mix of the above advanced features works best for preventing and minimizing costly downtime for your organization.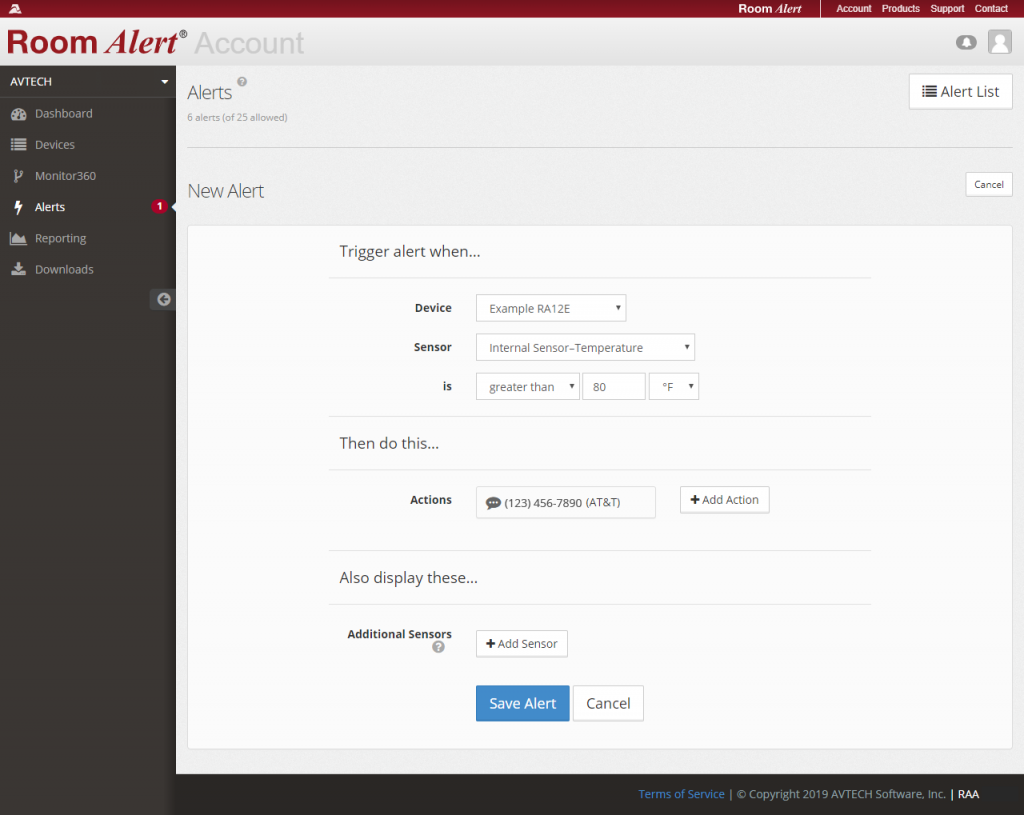 To further encourage strong and open lines of communication across your entire IT department, users can also comment on alerts. Commenting on alerts keeps reliable records, encourages employee communication, and minimizes confusion and wasted efforts because every time a comment is added, all of the alert's configured actions and recipients are notified.
Let's say your data center proactive environment monitoring needs require more personalized services. You can opt to customize email and text message alert notifications with additional notes. You can design templates with different messages and keywords depending on if an alert is in a triggered or cleared state. Because our Room Alert products are trusted in over 185 countries, a lot of our users don't use English as their organization's primary language.
With the help of our targeted customization for advanced alerting features in your Room Alert Account, you can set alerts in your local language. By setting your alerts in the most widely used language for your employees, you are able to streamline communication and make sure everyone in your organization understands the environment conditions in your facilities. This in turn minimizes confusion or potential wasted efforts and therefore positively contributes to your specific business continuity and disaster recovery plans.
Lastly, users can display additional sensor readings in email and text alert notifications. If your IT manager has an alert set up to notify you and the rest of your staff if your Digital Temperature and Humidity Sensor detects temperatures are too hot in your data center, this feature allows you to also display other nearby temperature and humidity sensor readings, the active or inactive power status for your AC unit, and the open or closed status for the door to your data center.
These readings could be important factors in diagnosing the issue because if you are able to tell that your AC unit is off or a door was left open, then you can quickly and accurately explain why temperatures in your environment either rose or dropped. Furthermore, by knowing what caused an alert trigger, you can be educated and informed on ways to prevent or control that potential issue from reappearing or worsening in the future.
All of the advanced features in your Room Alert Account are designed to be combined and layered for all-encompassing environment monitoring and protection for your business's assets, employees and reputation. Room Alert monitors, sensors and accessories backed by RoomAlert.com is the dependable proactive environment monitoring you need to guarantee you don't fall into the statistic of 59% of data centers that claim their downtime lasted a ½ day or more.
For additional information on how to configure all of the above advanced alerting features in your Room Alert Account, click here.
Contact Us
If you have any questions or want additional information on advanced features in your Room Alert.com Account, please visit our YouTube Channel and be sure to read more of our articles here to learn many other reasons why you need Room Alert to prevent unnecessary and costly downtime. You can also speak with a dedicated Sr Product specialist via email at Sales@AVTECH.com, by phone at 401.628.1600, or through our Live Chat feature right here on our website. Visit our Contact Page for more information. Protect your facility…don't wait until it's too late.