It's Business Continuity Awareness Week at AVTECH!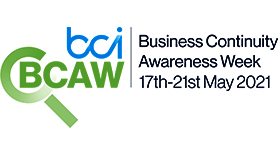 This week, Monday May 17th to Friday May 21st, we are celebrating Business Continuity Awareness week! Though Business Continuity has been a hot topic for years now, it is a term that is especially valuable to understand now as we start to adjust to life coming out of the COVID-19 pandemic. Business Continuity is defined as "having a plan to deal with difficult situations, so your organization can continue to function with as little disruption as possible. Whether it's a business, public sector organization, or charity, you need to know how you can keep going under any circumstances." 
This year, the theme of Business Continuity Awareness week is 'Business continuity starts with you.' The focus here is raising awareness, embedding business continuity and building resilience within your organization. According to one source, "Core to the concept of the 'Business continuity starts with you' theme is that 'business continuity works best when your staff are engaged and aware of their organization's plans in case of a crisis; when they know how to behave to mitigate risks and threats; and when they know how to react to certain situations. Business continuity starts with each member of staff, from top to bottom."
Why are we celebrating Business Continuity Awareness Week?
We are celebrating this week because Business Continuity and Continuity Planning are concepts we've been advocating for and demonstrating within our own organization since our start in 1988. Perhaps the most intense example of our proactive and prepared planning was when, like many other businesses, we were faced with the unexpected COVID-19 pandemic. Because we had Business Continuity efforts in place, we were able to keep our team safe while minimizing disruption and negative impacts due to the pandemic. We were so successful in this that we were awarded the title of one of the "The 20 Prospering Companies in the Pandemic" by Mirror Review. Not only was the title itself an honor, but more importantly a testament to the success of our Business Continuity planning which allowed us to prosper. As we slowly come into a Post-COVID world, it is crucial to do so with a better, more comprehensive understanding of Business Continuity.  
Our goal for this week is to continue educating businesses, people and communities about how incredibly crucial Business Continuity is to the success of any organization.
Our Tools for better Business Continuity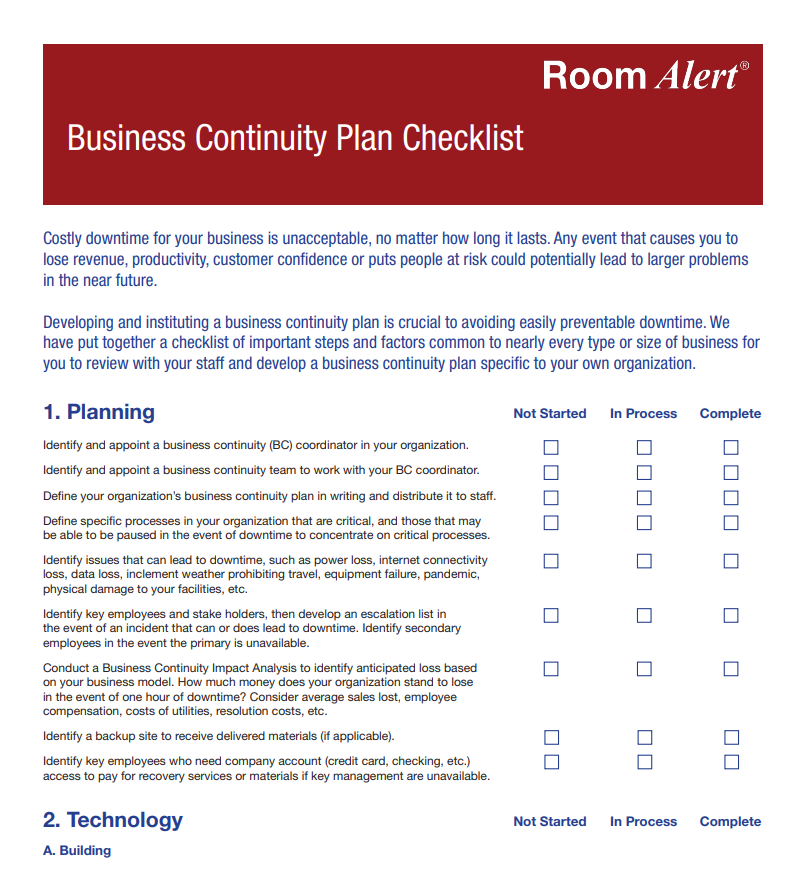 One of the tools we created to serve as an introduction to Business Continuity is our Business Continuity Plan Checklist. This checklist was released last year, amidst the COVID-19 struggles, with the intention of helping guide organizations that may not have had a documented and updated business continuity plan. A Business Continuity Plan is "a document that outlines how a business will continue operating during an unplanned disruption in service. It's more comprehensive than a disaster recovery plan and contains contingencies for business processes, assets, human resources and business partners – every aspect of the business that might be affected." 
Our Business Continuity Plan Checklist is easy to understand and is a great general guideline that can be revised to perfectly suit your business, organization or facility. From the feedback we've received from customers, our Business Continuity Plan Checklist has been extremely well-received and appreciated by businesses of all types and sizes.  
Another tool we created was our Downtime Calculator. This tool was designed with the intention of demonstrating to businesses just how costly downtime and damage can be if you do not have Business Continuity efforts in place. Our Downtime Calculator works by understanding a few basics about your organization. This includes your annual revenue, number of employees and average employee salary. With this data, our Downtime Calculator is able to accurately calculate how much money you stand to lose if you experience unexpected downtime and are not prepared for it with a Business Continuity Plan. As outlined in our Business Continuity Plan Checklist, threats of potential downtime can range from environmental concerns, to severe weather impacts, power grid failure, cybersecurity attacks and more. There are numerous circumstances that can dramatically disrupt routine business operations or even lead to bankruptcy if your business is not proactively prepared to tackle issues. 
Our Downtime Calculator is a great resource for further understanding the monetary value in Business Continuity for all businesses, organizations and facilities.
Our Products for better Business Continuity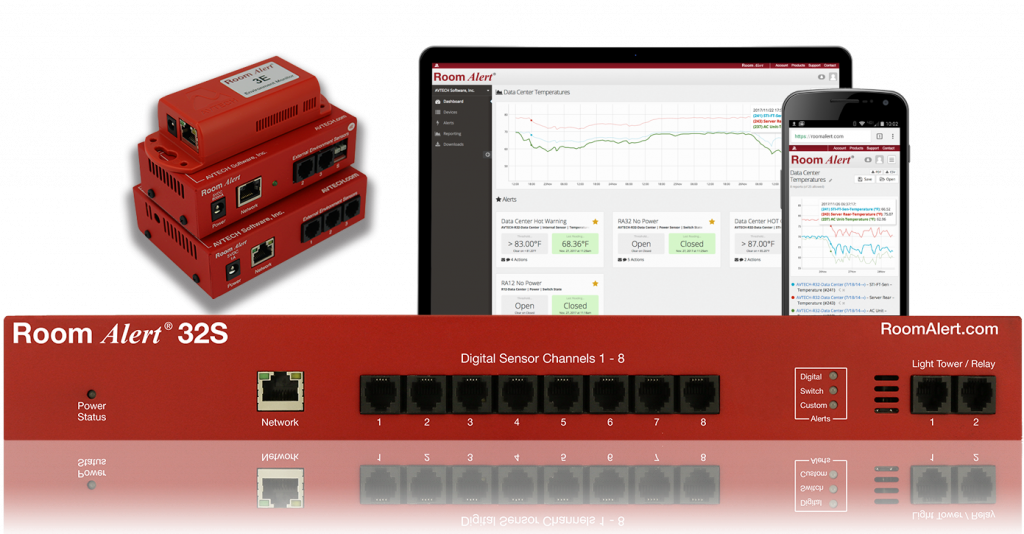 Our advanced and secure Room Alert environmental monitoring products are the best environment monitoring solution for preventing and minimizing environment-related downtime. Environmental concerns are responsible for 30% of all forms of costly downtime. With Room Alert monitoring your critical assets, you're already practicing a significant part of Business Continuity by protecting your organization against a wide range of threats. Environment monitoring with Room Alert is vital to acknowledge when talking about Business Continuity because 20% of businesses experience a failure (fire, flood, power outage, natural disaster, etc.) in any given year and 90% of businesses fail if they don't reopen quick enough. Room Alert practically pays for itself after just one instance of it saving you because the average cost of IT downtime is $5,600 per minute.  
Room Alert offers a variety of monitors, sensors, accessories and online services. Our products work together to monitor conditions in your environment such as temperature, humidity, heat index, dew point, air flow, room entry, fire & smoke, water & flood, power status and more. If Room Alert detects a change in your environment that could lead to costly or irreversible damage, it will notify you immediately so you can address the situation and save your facility's time, money, resources and reputation. 
We hope this Business Continuity Awareness week, businesses continue to understand the importance of Business Continuity and the value in environment monitoring with Room Alert. 
Contact Us
For any questions about Business Continuity and Environment Monitoring with Room Alert, you can speak with a dedicated Product Specialist via email at Sales@AVTECH.com, by phone at 401.628.1600, or through our Live Chat feature right here on our website for a free consultation.           
For additional resources, please visit our YouTube Channel and be sure to read more of our articles to learn how Room Alert protects your assets and prevents costly damage. For all other information, please visit our Contact Page. Protect your facility…don't wait until it's too late.