The Year of PRO: Room Alert Environment Monitoring
Taking A Professional Approach
Surviving 2020 was quite a challenge. The ongoing COVID-19 pandemic has dramatically impacted most people in terms of personal life and business. Here at AVTECH, we spent a lot of the past year following our own internal Business Continuity practices. We're always looking to further improve the products and services we offer so that we're providing our Room Alert users with the best Business Continuity & Environment Monitoring solutions available. We're proud to say that last year was a year of big growth and development for Room Alert. We are focused on providing all the monitors, sensors, accessories and services your facilities need when taking a professional approach to the new year.
The Room Alert PRO Line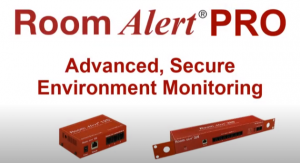 We further increased the professionalism in our product line of Room Alert monitors by developing the advanced & secure environment monitoring provided in our Room Alert PRO Line. This was a huge effort for your team internally as we worked tirelessly to put together superior environment monitoring capabilities that far surpass anything else available on the marketplace. Again with Business Continuity as our key goal in mind, we designed the Room Alert PRO Line to ensure potential threats of downtime are either minimized or entirely prevented as much as possible. This is not only in terms of environment-related concerns, but larger scale cybersecurity concerns as well.
The Room Alert PRO Line has all of the high-end security features that the biggest companies in the world such as Military / Government & Banking / Finance all need. The level of high security in the PRO Line can be trusted by any and all organizations that need to keep data and information secure. The Room Alert PRO Line ensures high performance while maintaining a large number of users, even when managing busy networks. The PRO Line helps customers follow DFARS, NIST SP 800-171 and ISO/IEC 27000 best practices so you can feel confident in knowing that you're receiving the best possible environment monitoring solution.
The Room Alert 32S is the highest capacity model in our Room Alert PRO Line. The Room Alert 32S jump started our PRO line with
all in a monitor that has the capability to utilize over 32 external sensors. With the Room Alert 32S, even the most high security facilities are able to easily and accurately monitor all aspects of the business.
The Room Alert 12S was the second monitor in our Room Alert PRO Line. The Room Alert 12S offers all of the same advanced and secure features of our Room Alert 32S but in a smaller, more compact monitor. The Room Alert 12S is best suited for monitoring facilities that require less sensor capacity due to its ability to utilize 12 external sensors.
Be sure to keep up with AVTECH throughout 2021 for new Room Alert PRO environment monitoring products!
Professional Tier Room Alert Account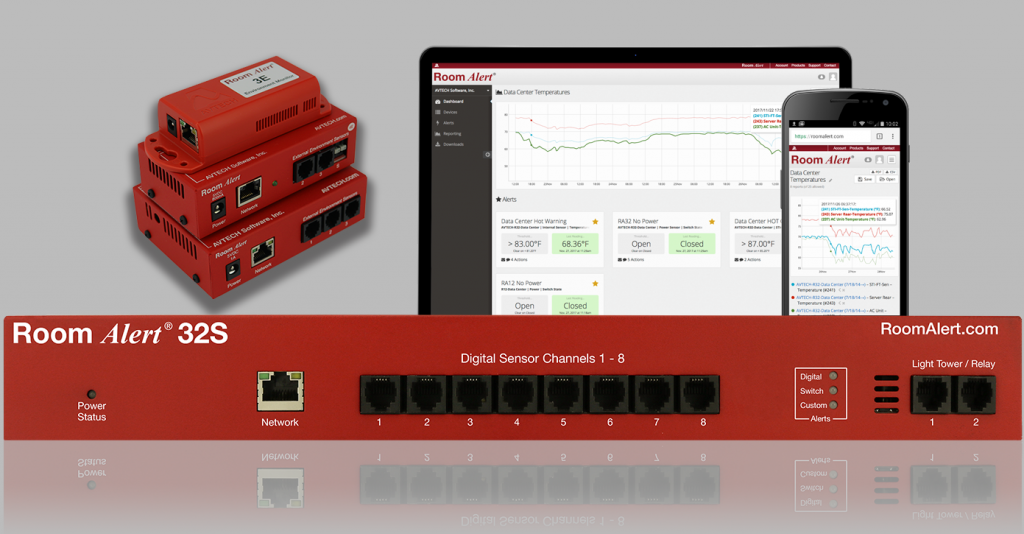 Another huge effort from our team in 2020 was strengthening our Room Alert Account platform. Room Alert Account is an online service that was designed to pair with our Room Alert hardware. In Room Alert Account, users can register their Room Alert devices for 24/7 real-time online monitoring access. Some of the most valuable features in Room Alert Account include
Alerting that will notify you of changes in your environment based off thresholds you set

Reporting where you can graph your sensor data

Firmware updates
and more. On the Professional tier of our Room Alert Account platform, customers are receiving online services to match the advanced capabilities in their Room Alert hardware. The Professional level Room Alert Account was created for any and all professional businesses, organizations and facilities. On our most popular Professional level of Room Alert Account, users experience
and a lot more. Room Alert Account allows users to have convenient access to up-to-date information regarding the environment conditions of their facilities. With features such as alerting, Room Alert Account truly has an immeasurable value to Business Continuity planning and preventing costly downtime. Room Alert Account works to ensure your doors stay open as much as possible and potential threats of downtime cause as little disruption as possible.
Contact Us
For any questions about environment monitoring with Room Alert, you can speak with a dedicated Product Specialist via email at Sales@AVTECH.com, by phone at 401.628.1600, or through our Live Chat feature right here on our website for a free consultation.     
For additional resources, please visit our YouTube Channel and be sure to read more of our articles to learn how Room Alert protects your assets and prevents costly damage. For all other information, please visit our Contact Page. Protect your facility…don't wait until it's too late.