The Room Alert 3S – Our Most Economical & Compact Highly Secure Monitor
When we launched our Room Alert PRO line of monitors starting with the Room Alert 32S in January 2020, we were blown away by its unprecedented success. Seeing how valuable it was for customers to have highly advanced and secure environment monitoring prompted us to create the Room Alert 12S which provides Room Alert users with all of the same high security features offered in the Room Alert 32S, but in a more compact monitor that is better suited for small to midsize applications. Over the past year and a half, our Room Alert PRO line has been extremely well-received by customers around the world who want to protect their assets and prevent environmental downtime.
Since we're always looking for new and innovative ways to further support our users and their businesses, we set out to continue improving. We've recently developed the newest monitor in our Room Alert PRO line – introducing the Room Alert 3S! The Room Alert 3S takes all of the advanced qualities customers have come to love and expect from Room Alert PRO and engineers them into our most economical monitor for small-scale applications where space is at a premium.
What is the Room Alert 3S?
The Room Alert 3S is the ideal entry-level environment monitoring solution for users who require data privacy and security features. The Room Alert 3S is a light-weight monitor that can fit easily in telecom or wiring closets, server rack cabinets or other small spaces. Just like all of the monitors in our Room Alert PRO line, the Room Alert 3S offers:
HTTPS/SSL web interface

SSL/TLS email notifications

Multiple versions of SNMP including SNMP v3

2048-bit encryption

SSL push for data to reach the Room Alert Account online portal

Secure and advanced alerting via email, email-to-SMS, SNMP, JSON, HTTP Post, webpage update and more
The Room Alert 3S is perfect for monitoring temperature and has capacity for up to 2 additional sensors. The Room Alert 3S package includes an AVTECH 5V power adapter, Ethernet cable (10′) and Room Alert Account special upgrade offers. With the purchase of a Room Alert 3S, just as with the purchase of any monitor in our PRO line, you'll receive a free 1-year Professional level upgrade. Just as with all of our proactive Room Alert environment monitors, the Room Alert 3S comes standard with free firmware updates as well as lifetime support.
The Room Alert 3E vs Room Alert 3S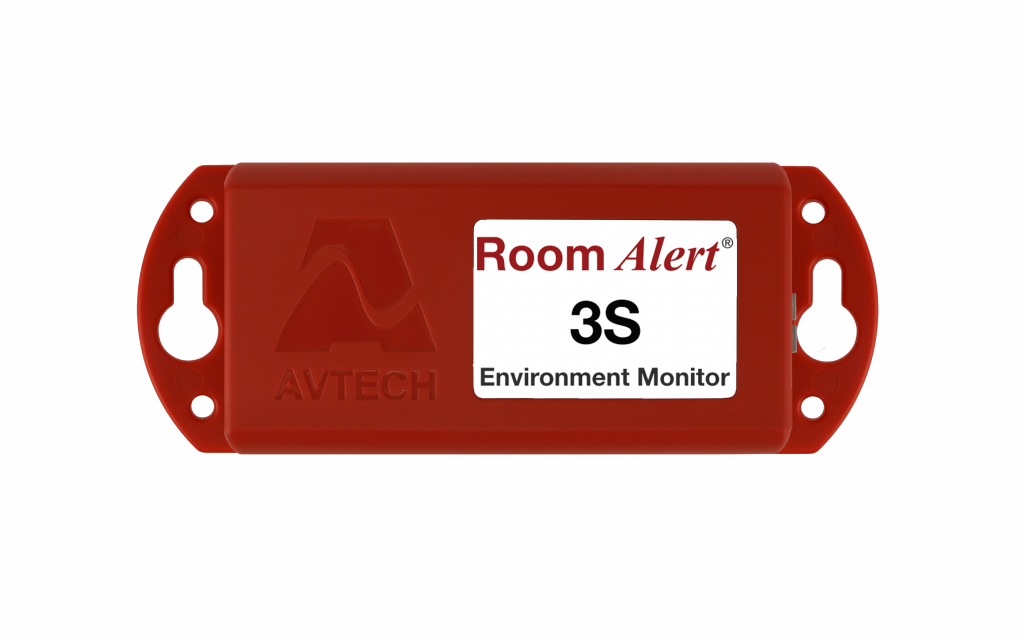 The most notable difference between our Room Alert 3E monitor and Room Alert 3S monitor is the targeted focus on security and secure connections. Only the Room Alert 3S can offer advanced technology and layers of data security and encryption. Our Room Alert 3S is the superior solution for Banking, Government (Military) and Telecom facilities because, as with our entire Room Alert PRO line, the Room Alert 3S meets FCC industry requirements and suits users who look to follow DFARS, NIST SP 800-171 and ISO/IEC 27000 best practices.
We're excited to announce the launch of the Room Alert 3S and continue helping customers prevent the 30% of business downtime that is caused by environment-related issues!
Contact Us
If you have any questions or want additional information on how the new Room Alert 12S protects your data and facilities against costly environment-related downtime, please contact us today through email at Sales@AVTECH.com, through our online Live Chat service, or via phone 401.628.1600. 
You can also visit our YouTube Channel and read our articles here to learn many other reasons why you need Proactive Environment Monitoring with Room Alert.