We're A Top Food Service Management Solution Provider of 2022!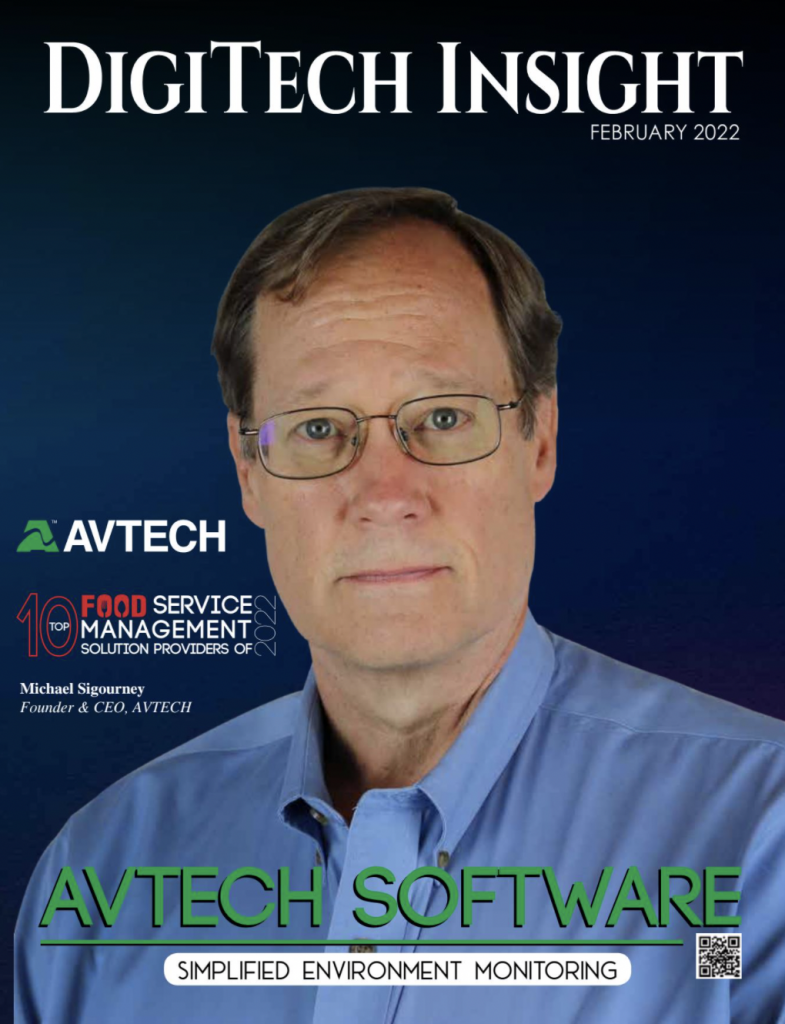 We are extremely proud to share that our Founder & CEO Michael Sigourney was recently featured on the cover of DigiTech Insight's Top 10 Food Service Management Solution Providers of 2022! We appreciate this acknowledgment of our Room Alert products as the trusted environment monitoring solution for food management, cold storage, pharmaceutical and more.
How Does Environment Monitoring Help Food Management?
When it comes to food management, most businesses and facilities' top priority is food safety. Food and beverage products can quickly become contaminated if they are exposed to high temperatures or high humidity. Environment-controlled facilities are critical to safe food storage. Room Alert environment monitoring works by overseeing the conditions in your food storage locations, so you can be sure that your products are safe. Our Room Alert hardware is backed by our Room Alert Account and Room Alert Manager services. These services are designed to align perfectly with the U.S. Food and Drug Administration (FDA) CFR 21 regulations.
How Does Room Alert Work?
Room Alert monitors and sensors can be quickly installed in restaurants, freezers, refrigerators, cold storage facilities and warehouses. Then users can register their equipment in Room Alert Account, our online dashboard where you can manage and monitor every aspect of their environment conditions. For example, in Room Alert Account you can configure an alert to text you if your freezer loses power or if your warehouse exceeds 80 degrees Fahrenheit. Or you can create a custom report to log temperature trends in your environment. This can help you to prepare for potential threats before disaster strikes. 
For users on the Professional tier of Room Alert Account or higher, you can gain access to our Room Alert Manager software. Room Alert Manager takes proactive environmental monitoring to the next level as a robust all-in-one solution for the discovery, management, monitoring, alerting, logging, graphing and automatic action of Room Alert environment monitoring products. 
Room Alert monitors, sensors and accessories supported by Room Alert Account and Room Alert Manager services work together to help prevent the 30% of downtime that is caused by environment-related concerns such as temperature, humidity, flood, power, smoke, airflow and more.
Room Alert In Other Industries
Beyond the food service industry, Room Alert is also trusted across various other applications. It is trusted in pharmaceutical facilities to ensure vaccine safety and effectiveness. It is trusted in data centers and IT facilities to prevent data loss and protect computer equipment. Room Alert is also installed in warehouses to promote employees' safety and wellbeing. Room Alert is extremely value-based because it provides peace of mind to any business, organization or facility that needs to protect its people, assets and reputation.
Contact Us
If you have any questions about environment monitoring with Room Alert, please contact us today through email at Sales@AVTECH.com, through our online Live Chat service, or via phone 401.628.1600.   
You can also visit our YouTube Channel and read our articles here to learn many other reasons why you need Proactive Environment Monitoring with Room Alert.