Room Alert Account Gets A Security Boost With MFA & SAML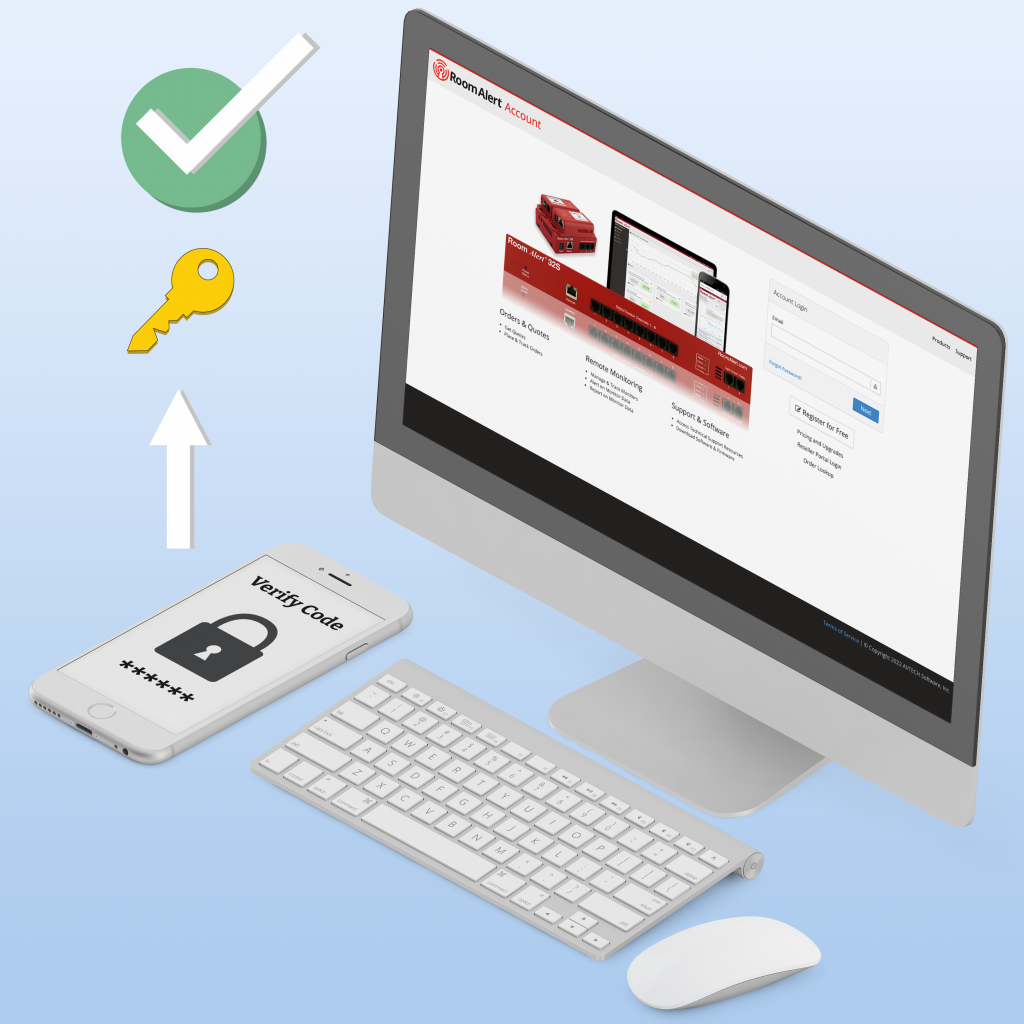 We are excited to announce new shields up security measures in Room Alert Account: MFA and SAML Single Sign-On. Multi-factor Authentication (MFA) and Security Assertion Markup Language (SAML) make your data more secure, provide tools for securely managing users in large organizations and help you maintain industry compliance.
Multi-factor Authentication Is The Best Way To Keep Hackers Out
Multi-factor Authentication is a form of authentication that requires users to supply two or more verification factors to gain access to their account. Instead of only protecting your Room Alert Account with a username and password, which can be stolen by third parties, MFA requires additional information to make sure you're you. This dramatically reduces the likelihood of successful cyberattacks and hacking. MFA is completely free and available for all Room Alert Account users.  
Activate MFA on your account today. Log in to your Room Alert Account and navigate to your Profile Settings. Here you will see the option to configure MFA.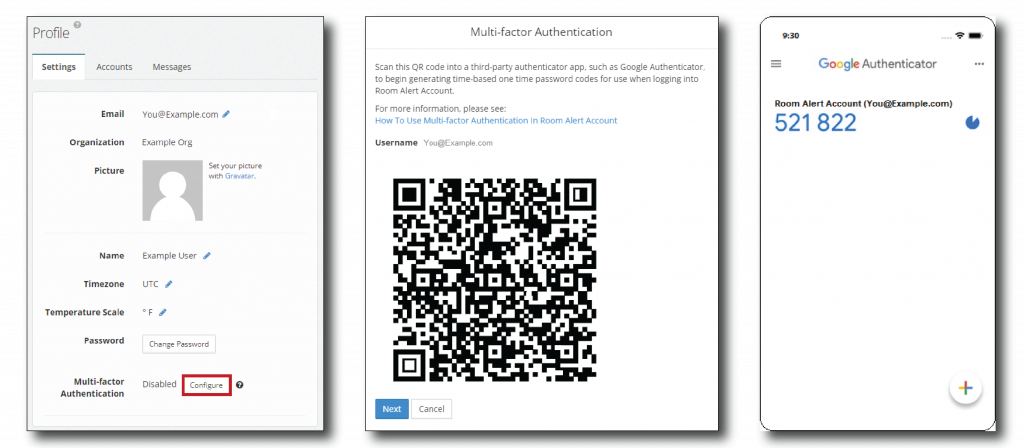 Setup is as easy as scanning a QR code with your cellphone's camera, and retrieving a one-time passcode from a third-party authenticator app, such as Google Authenticator.
Once MFA is enabled, you'll be required to enter a code, along with your regular username and password, each time you log in to Room Alert Account from an unrecognized device.
For detailed instructions on how to use MFA, see How To Use Multi-factor Authentication In Room Alert Account & Room Alert Manager.
SAML Single Sign-On Improves Security and Productivity
SAML Single Sign-On allows users to access multiple web applications with a single set of login credentials. This Enterprise-exclusive Room Alert Account feature delivers convenient, highly secure authentication via a third-party service such as Microsoft Active Directory, Google Business, Okta or OneLogin.  
Are you already logged in to your organization's identity service, like Microsoft or Google for Business? If so, you can quickly access your Room Alert Account without entering a password. SAML improves productivity and security within your organization, and can also be helpful in maintaining industry compliance for security and cybersecurity.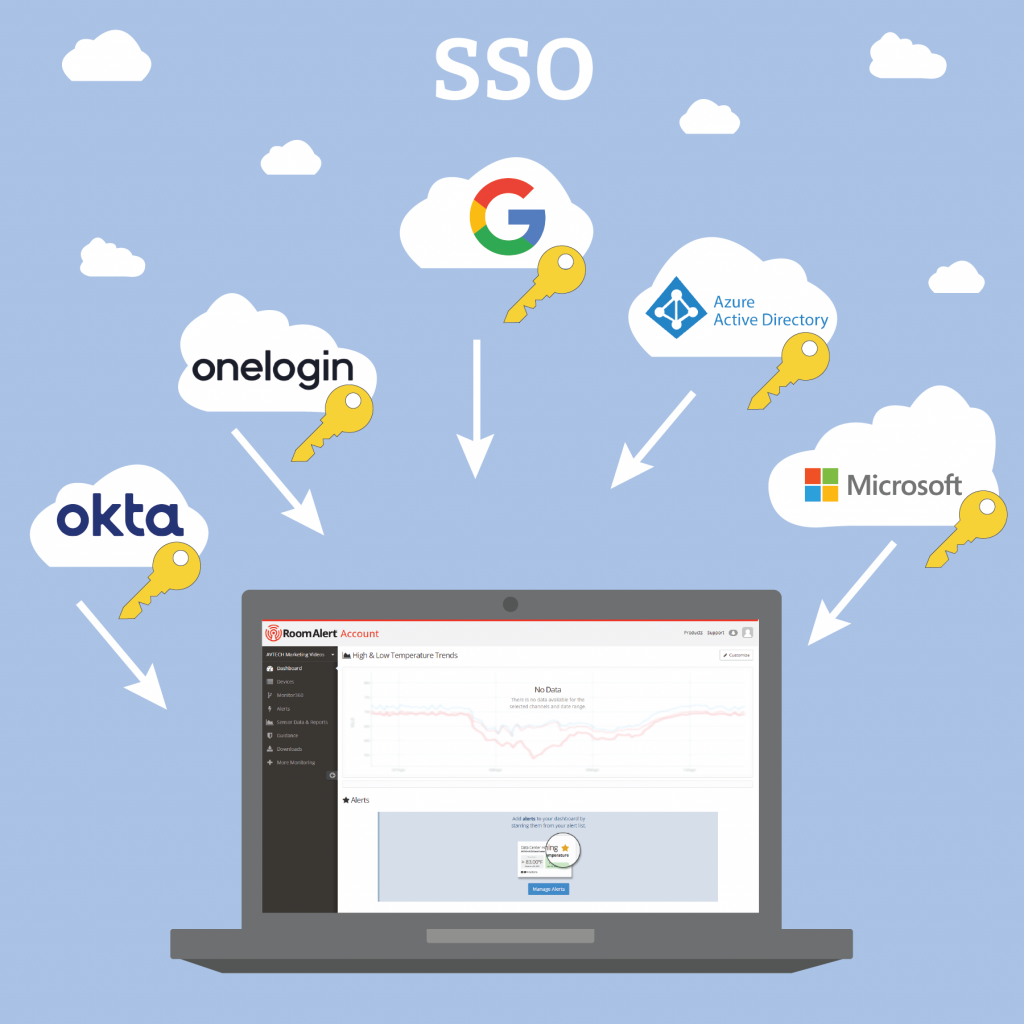 When an organization uses SAML Single Sign-On, employees don't need to worry about memorizing a long list of passwords for their different accounts. As a result, they're more likely to create complex hard-to-guess passphrases. They're also less likely to reuse passwords or write them down. Best of all, not having to enter passwords when accessing web apps dramatically decreases the risk of password exposure. Thanks to SAML, complicated password management is a thing of the past, meaning employees can focus on the work they do best.   
SAML is the superior solution for centralized user management. Administrators can centrally control requirements such as password complexity, and quickly relinquish login privileges across the board when an employee leaves the organization. With this new feature release, managers can grant new hires access to their organization's existing Room Alert Account with ease—much more efficient than having every individual employee create their own unique username and password, and granting access one-by-one.  
SAML Single Sign-On was incorporated in Room Alert Account with large businesses, facilities and companies in mind. It is ideal for applications where the top priorities are keeping employee data secure and managing a large number of users.   
For information about setting up SAML, please see our FAQ, How To Configure SAML Single-Sign-On In Your RoomAlert.com Account.
Contact Us
If you have any questions about implementing Multi-factor Authentication or SAML Single Sign-On in Room Alert Account, please contact us today through email at Sales@AVTECH.com, through our online Live Chat service, or via phone at 401.628.1600. 
You can also visit our YouTube Channel and read our articles here to learn many other reasons why you need Proactive Environment Monitoring with Room Alert.