Make Workplace Safety A Priority With Room Alert
We've discussed in previous articles how Room Alert helps improve employee and workplace safety as well as maintain industry compliance. From obvious applications such as high temperature leading to heat-related illnesses and water damage causing slips and falls, there is a long list of environmental factors that can jeopardize worker safety. To continue our article series regarding how Room Alert environment monitoring strengthens worker safety and Business Continuity efforts, here are two more environmental concerns to consider: Room Entry and Motion.
Increase Employee Safety with the Room Entry Sensor
Our Room Entry Sensor helps to improve the physical security, and overall employee safety, in your organization. The Room Entry Sensor provides real-time recognition of a door, window or cabinet being open. The Room Entry Sensor standard use is to mount the wired sensor to the frame of a door. Then, mount the matching actuator opposite of the sensor on the door. Anytime it is opened, the two components separate and the sensor trips. Installing our Room Entry Sensor fosters heightened safety for your entire staff because you will be alerted any time a door, window or cabinet is opened. 
For example, if you have our Room Entry Sensor mounted on a door (or whatever you mounted the sensor to) in your facility, then Room Alert will notify you via text, email or HTTP post anytime that door is opened and someone enters your facility. This sensor gives you peace of mind by keeping you in the know regarding who is accessing what and when. Or if someone in your facility opens an IT rack, cabinet, safe or vault containing sensitive files and information, Room Alert will promptly notify you. The Room Entry Sensor also supports good airflow regulation. Airflow is critical to strong employee safety because poor air flow can significantly impair workers' cognitive functioning and lead to headaches, fatigue, trouble concentrating, respiratory problems and more. By monitoring for a door or cabinet being opened, Room Alert users can track if contaminants are potentially entering the space and jeopardizing physical safety. 
With this important insight, you can ensure this is authorized access or take corrective action to protect your workers from costly downtime and damage. The Room Entry Sensor is perfect for preventing workplace security concerns in server rooms, data centers, cold storage doors and rooms and so much more. Every business, facility or organization that has employees to protect or is required to follow industry compliance can benefit from our Room Entry Sensor.
Detect Movement & Security Threats with the Motion Sensor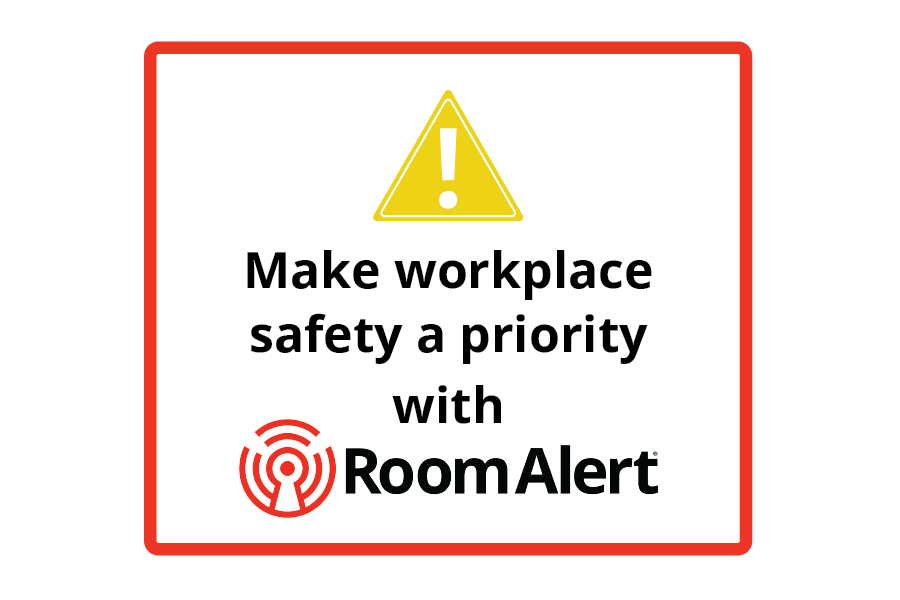 Our Motion Sensor is a movement sensing device that was designed to detect movement up to 35′ away with a cone coverage of approximately 84 degrees wide. Like the Room Entry Sensor, the Motion Detection Sensor provides additional physical security to increase worker safety. Our Motion Sensor detects nearby people or objects that could threaten the safety or well-being of employees and rounds out a complete security system. To receive the best possible results, we recommend installing the sensor in a position that will cover desired locations by carefully attaching the back plate of the sensor to a ceiling or wall. The maximum recommended length is approximately 100´ although shorter lengths will yield more reliable performance and distances up to 900´ are possible. The Motion Sensor helps you better track the movement in your facility to strengthen workplace safety. 
For example, with a Motion Sensor you can be alerted via text, email or HTTP post to any detected motion in your facility. The Motion Sensor can be used to oversee any movement in a computer room, telecom closet or other location for unauthorized entry. A facility manager can be notified of a potential intruder in the building or even be alerted to someone entering a restricted area of the facility. The Motion Sensor is ideal for monitoring in warehouses, colleges and universities, medical labs, banks and financial institutions and essentially any application where an unwanted presence could lead to lost revenue, productivity and data. 
The Room Entry Sensor and the Motion Sensor help prioritize employee safety and well-being by keeping you in the know about the environmental threats that lead to 30% of costly downtime and damage.
Contact Us
If you have any questions or want additional information on how to improve worker safety with Room Alert, please contact us today through email at Sales@AVTECH.com, through our online Live Chat service, or via phone 401.628.1600.          
You can also visit our YouTube Channel and read our articles here to learn many other reasons why you need Proactive Environment Monitoring with Room Alert.