Room Alert Account Tiers – Professional vs Enterprise
Room Alert Account is an online platform that provides the best way for users to manage their Room Alert monitors, sensors, and accessories. In Room Alert Account, users can manage and monitor temperature and environmental conditions, create custom reports for temperature logging or environmental sensor logging history, receive alert notifications when environmental conditions reach extremes, and much more, depending on their Room Alert account tier. The Room Alert Account tiers begin with the Base tier, which is free for all customers and never expires, and continue with Personal, Professional, Enterprise, and Ultimate. There are many differences in features and capabilities between the Room Alert Account tiers. Our team is happy to work with you to understand your unique needs and find the best Room Alert Account tier for you.
Professional Tier
Any business, facility, or organization concerned with preventing the 30% of costly unplanned outages caused by environmental threats should consider the Professional or Enterprise tier. The Professional tier of the Room Alert Account is our most popular and includes some newly released features to enhance the user experience. This includes external sensor capacity, sensor data & reports for compliance and worker safety, and order lookup functionality. Room Alert users on the Professional tier also have access to several higher-level features such as Advanced Alerting capabilities, our patented Monitor360 technology, and access to our Room Alert Manager software. The Professional tier also offers data retention for up to 180 days, supports up to 25 custom-configured alerts, and up to 7 custom reports/graphs.
Our Professional tier of Room Alert Account has proven to be the most popular among Room Alert users due to its incredible value and unmatched capabilities for proactive environmental monitoring.
Enterprise Tier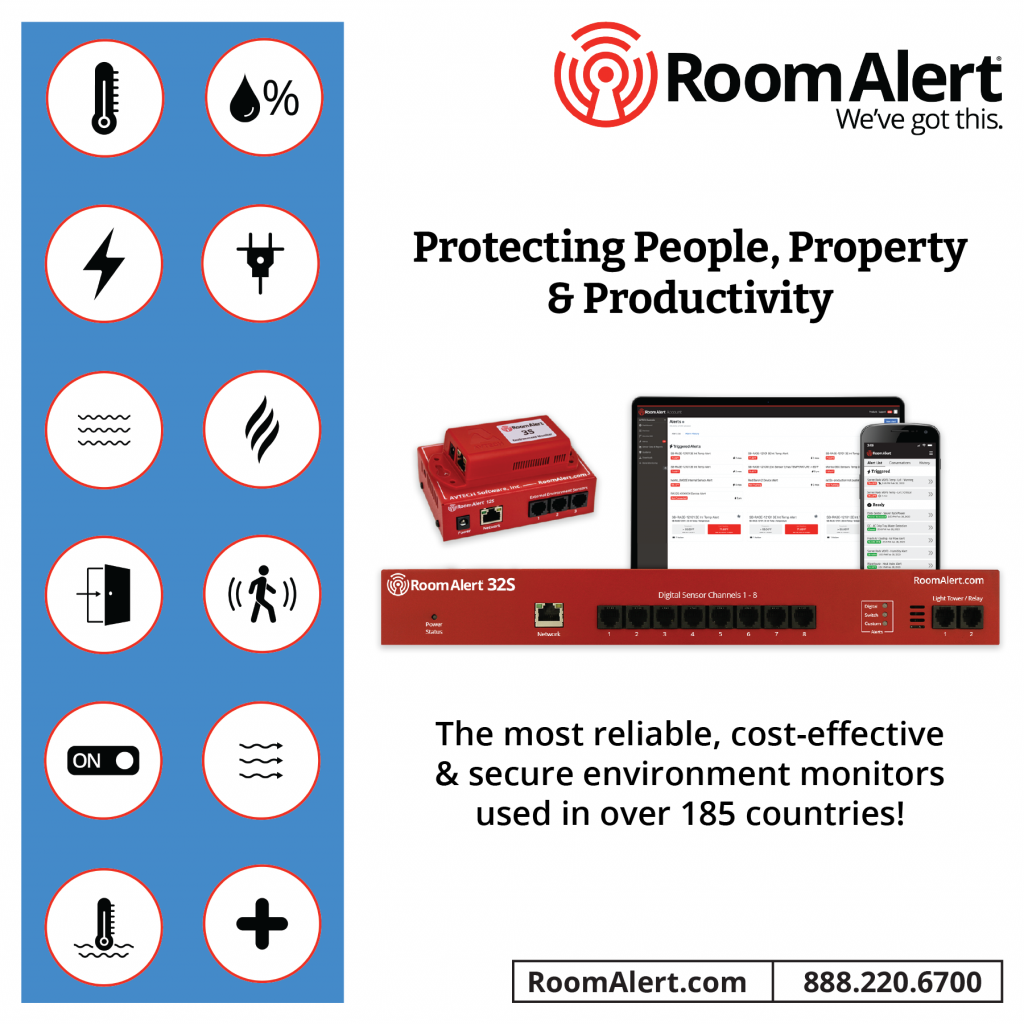 The Enterprise tier of the Room Alert Account was designed with large businesses, facilities, and companies in mind. Enterprise customers gain access to everything in the Professional tier with increased capabilities and Enterprise-exclusive features. Whether your organization requires strict cybersecurity measures or oversees a large number of users, the Enterprise tier of the Room Alert Account is the ideal solution for online management of all your Room Alert monitors, sensors, and accessories. Our Enterprise tier offers increased capacity on several of our most popular Room Alert Account features, such as data retention for up to 365 days, support for up to 75 custom-configured alerts, and up to 25 custom reports/graphs. If you have more than one facility or a large facility spread over a significant area, you will greatly benefit from the high capacities of the Enterprise tier. If you are mandated to follow specific data history requirements, then Enterprise is perfect for data retention for up to 1 year. Or if you have a large team of employees who need access to sensor data or require alert notifications, Enterprise is the tier for you.
Enterprise-exclusive features include assigning user roles, SAML and Single-Sign-On. Assigning user roles is a valuable management tool for controlling exactly what registered users in your Room Alert Account have access to. There are five types of user roles: Administrator, Provisioner, Operator, Viewer, and Billing. With the Enterprise tier of the Room Alert Account, you have full control over what data every person in your organization can view. For example, you can provide temporarily limited access to a new hire or assign the most suitable user role to an entire department that only needs specific information. SAML & Single-Sign-On add convenience for users, enhance security, and help customers maintain industry compliance. With SAML & Single-Sign-On, your employees won't need to remember a long list of passwords for their different accounts. They can seamlessly access multiple applications without worrying about login credentials. Therefore, your employees can remain productive without needing to contact the IT department for password resets. SAML & Single-Sign-On offer centralized user management for your company. Administrators can centrally control requirements such as password complexity and quickly revoke login privileges across the board when an employee leaves your organization.
Our enterprise-exclusive features are critical in helping to increase productivity, decrease costly outages and follow industry best practices.
Lifetime Room Alert Account
The Lifetime Room Alert Account is available for users on Professional, Enterprise, and Ultimate tiers. Lifetime subscriptions are non-expiring and independent of the hardware you purchase. Whether you invest in new Room Alert monitors or upgrade your current monitors to higher security/capacity (or future) Room Alert models, your Room Alert Account service will remain in place with no additional charges or fees unless you opt to upgrade to a higher tier for more capacity.
With one Lifetime payment, you'll have peace of mind knowing that your sensor data, alert lists, maps, reports, and more will always be available when you need them, without ever having to stress about missed renewal notices due to user retirements, changes to budgets, internal policy adjustments, job turnover, and more. Lifetime is the most cost-effective and value-priced option that practically pays for itself after a year or so, in the same way that our Room Alert hardware pays for itself after saving you from just one incident involving a costly, unplanned outage.
Contact Us
If you have any questions about which Room Alert Account tier is best for you, please contact us today through email at Sales@AVTECH.com, through our online Live Chat service, or via phone at 401.628.1600.