Celebrate National Cybersecurity Awareness Month 2020 With The Room Alert PRO Line!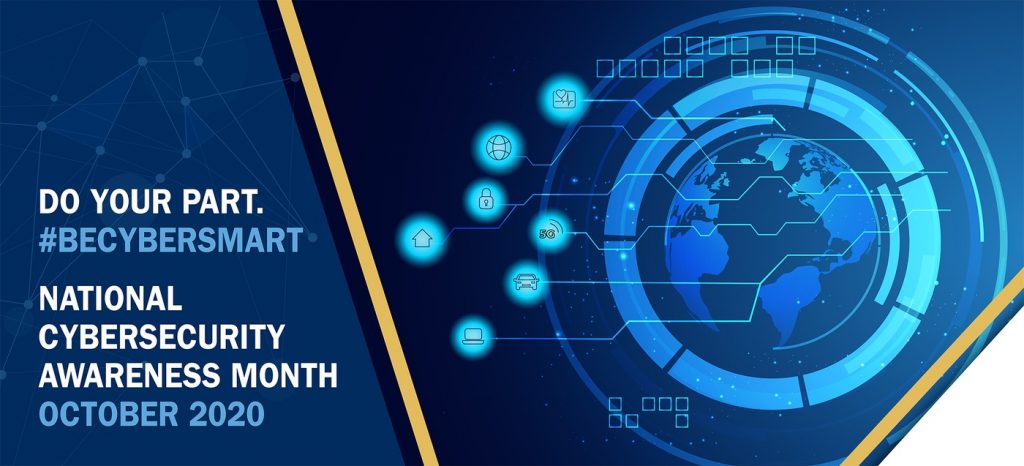 Last year we wrote an article for National Cybersecurity Awareness month to detail some of the ways that we demonstrate an understanding of Cybersecurity Awareness all year long here at AVTECH, both to keep our company safe internally as well as our customers safe. We believe that cybersecurity is crucial for all organizations because without it, you're not actively protecting any and all sensitive information, such as personally identifiable information (PII). This means that your data is out in cyberspace where cybercriminals will try to steal it and potentially use it against you. By securely protecting your company, employee, customer and personal data, you're helping to prevent costly and irreversible downtime. 
Any business that wants to be successful should evaluate all potential risks for cybersecurity threats in a Business Continuity Plan. In this clear and concise written document, you should identify all of the specifics on how to handle any cyberthreats that may come up. A cybersecurity threat is an attack where someone or something is trying to steal your sensitive information. Understanding and following these procedures within your organization will ensure you're dramatically minimizing the likelihood and extent of losing employee productivity, company reputation, revenue, resources, data and more. In today's world where technology and online presence is highly prevalent, it's increasingly critical to protect all information you have in cyberspace so others cannot access it and cause harm or damage. 
One of the ways that we internally emphasize the importance of cybersecurity to our team is by requiring every employee of AVTECH to engage in frequent cybersecurity training. Our extensive cybersecurity training aims to educate our employees on how to make safe and responsible decisions regarding sensitive information and data. This includes but is not limited to phishing via emails, ransomware, password managers and much more. 
Another way we highlight Cybersecurity Awareness is with our proactive environment monitoring Room Alert monitors, sensors, accessories and services. Our advanced and secure Room Alert environment monitoring has always kept customer data and information private and secure. Since 1988 AVTECH has been dedicated to preventing and minimizing environment-related downtime, data loss and more for our Room Alert users. 
This year, the theme for National Cybersecurity Awareness Month is "Do Your Part. #BeCyberSmart." According to the CISA, "This theme encourages individuals and organizations to own their role in protecting their part of cyberspace, stressing personal accountability and the importance of taking proactive steps to enhance cybersecurity." We're proud to offer our Room Alert customers with products and services that put into practice all of the intentions behind National Cybersecurity Awareness Month. We always want to take every opportunity to show our customers that they are safe and protected with Room Alert environment monitoring.
Room Alert Environment Monitoring in 2020
Though expressing a clear understanding of cybersecurity awareness through our Room Alert product line is nothing new, this year we are celebrating National Cybersecurity Awareness Month with more advanced and secure environmental monitoring than ever before. In January of this year, we launched the Room Alert 32S. The Room Alert 32S was created out of a need to offer Advanced Security, Data Encryption and more in our highest capacity Room Alert available. To design this product and the basis of our "S" models, we built off of the success of our Room Alert 32E while also expanding additional features for a targeted focus on security and secure connections. This was especially for our users who look to follow DFARS, NIST SP 800-171 and ISO/IEC 27000 best practices. Some of the benefits of the Room Alert 32S are 
HTTPS/SSL web interface 

SSL/TLS email notifications 

SSL push for data to reach the Room Alert Account online portal 

SNMP v1, 2c and 3 

Secure & Authenticated firmware updates

2048-bit encryption and more 
We saw unprecedented success with the Room Alert 32S, so we didn't stop there. In July of this year, we launched the Room Alert 12S. The Room Alert 12S provides Room Alert customers with secure and advanced environment monitoring in a smaller, more compact monitor, which is ideal for monitoring facilities that require less sensor capacity. The Room Alert 12S is the best solution for proactive environment monitoring in secure settings such as Banking, Government (Military) and Telecom facilities. Just like the Room Alert 32S, the Room Alert 12S also offers security options so users can meet FCC, among other, industry requirements. The Room Alert 12S includes all of the same high-level features as the Room Alert 32S listed above.
The Room Alert PRO Line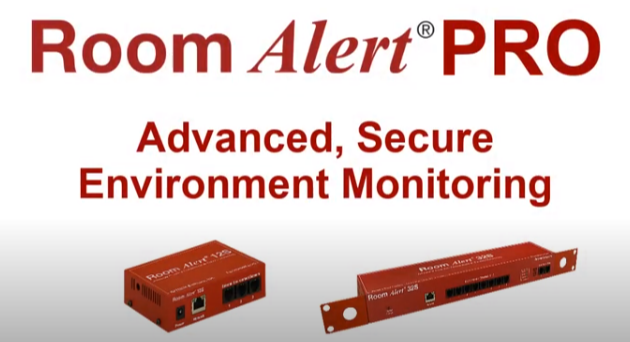 Together these two environment monitors, the Room Alert 32S and the Room Alert 12S, make up a new and unbeatable level of professional environment monitoring, the Room Alert PRO Line. The Room Alert PRO Line provides superior monitoring to customers who want to prevent and minimize threats of costly environment-related downtime while  
Keeping customer and employee data secure  

Ensuring high performance  

Maintaining a large number of users  

Managing busy networks

Following DFARS, NIST SP 800-171 and ISO/IEC 27000 best practices  
The Room Alert 32S was designed with larger facilities in mind, because that is where many different kinds of environment conditions may need to be monitored. The Room Alert 12S on the other hand, was designed with smaller facilities in mind as it is best suited for spaces that require less sensor capacity. Both with the Room Alert 32S and the Room Alert 12S, we've seen customers thrilled to receive environment monitoring that meets their safety and security needs. In the future, we look to expand our Room Alert PRO Line with more options for advanced and security environment monitoring.
Contact Us
If you have any questions about Room Alert or want additional information on how AVTECH keeps the data we have about you safe, please visit our YouTube Channel or visit our Contact page for a free consultation with one of our dedicated Product Specialists today!