The Room Alert 3S Is A 2022 Product Of The Year Award Winner!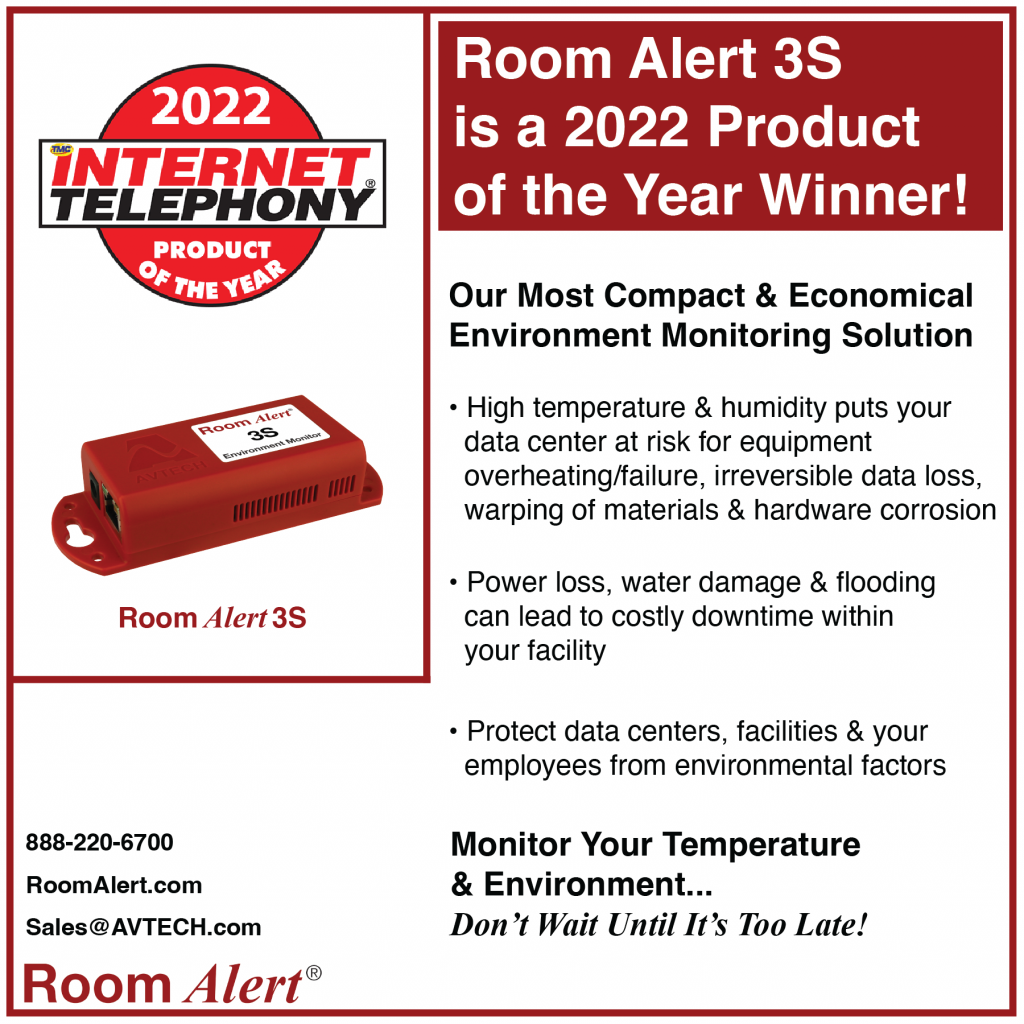 We're honored to announce that the Room Alert 3S has received a 2022 INTERNET TELEPHONY Product of the Year Award! Though we have received several awards recently, we are especially proud of this achievement because it is the second consecutive year that Room Alert environment monitoring has been recognized as a "Product of the Year". Right around this time last year, our advanced and secure Room Alert PRO Line received the 2021 INTERNET TELEPHONY Product of the Year award. At the time of the "Product of the Year" awards in 2021, we had not yet launched our Room Alert 3S. Our Room Alert 3S has been massively successful and we attribute that success to the incredible engineering that went into developing this powerhouse product.
Room Alert 3S
The Room Alert 3S is our most compact and economical environment monitoring solution for users who require data privacy and security or want to follow DFARS, NIST SP 800-171 and ISO/IEC 27000 best practices. Due to its sensor capacity and lightweight size, the Room Alert 3S is the ideal entry-level monitor for data centers, telecom or wiring closets, server rack cabinets or other small spaces. The Room Alert 3S, as well as our entire Room Alert PRO Line, offer advanced security such as  
HTTPS/SSL web interface  

SSL/TLS email notifications  

SNMP v1, 2c and 3  

2048-bit encryption

Secure & Authenticated firmware updates 
The Room Alert 3S has the capacity to monitor temperature and 2 additional environment conditions, and supports Power over Ethernet (PoE) making it easy to install and deploy in hard-to-reach areas. Paired with just one Digital Temperature and Humidity Sensor, the Room Alert 3S can help you easily and accurately track the temperature, humidity, heat index and dew point in your facility. The Room Alert 3S package includes an AVTECH 5V power adapter, Ethernet cable (10′) and our online Room Alert Account platform. With the purchase of a Room Alert 3S, just as with the purchase of any monitor in our PRO line, you'll receive a free 1-year Professional level upgrade. Professional tier Room Alert Account is by far the most popular because users gain access to premium features such as  
and more to help further your Business Continuity efforts. 
To round out the complete package that comes with all of our proactive environment monitors, the Room Alert 3S comes standard with free firmware updates as well as lifetime technical support. Designed with Banking, Government (Military) and Telecom facilities in mind, our team is proud to offer the Room Alert 3S as the most compact and budget-friendly Room Alert solution for meeting FCC industry requirements while preventing costly environmental downtime. 
30% of all data loss and downtime is caused by factors such as temperature, humidity, power, flood and smoke. The best way to prevent this damage is with proactive environment monitoring and the best environment monitoring solution is Room Alert. With the highly secure and cost-effective Room Alert 3S, the question is not if you can afford it, it's can you afford to not have it?
Contact Us
For any questions or additional information on how the Room Alert 3S protects data and facilities against costly environment-related downtime, please contact us today through email at Sales@AVTECH.com, through our online Live Chat service, or via phone at 401.628.1600.  
You can also visit our YouTube Channel and read our articles here to learn many other reasons why you need Proactive Environment Monitoring with Room Alert.