Room Alert Is The Most Innovative Environment Monitoring Solution Award Winner!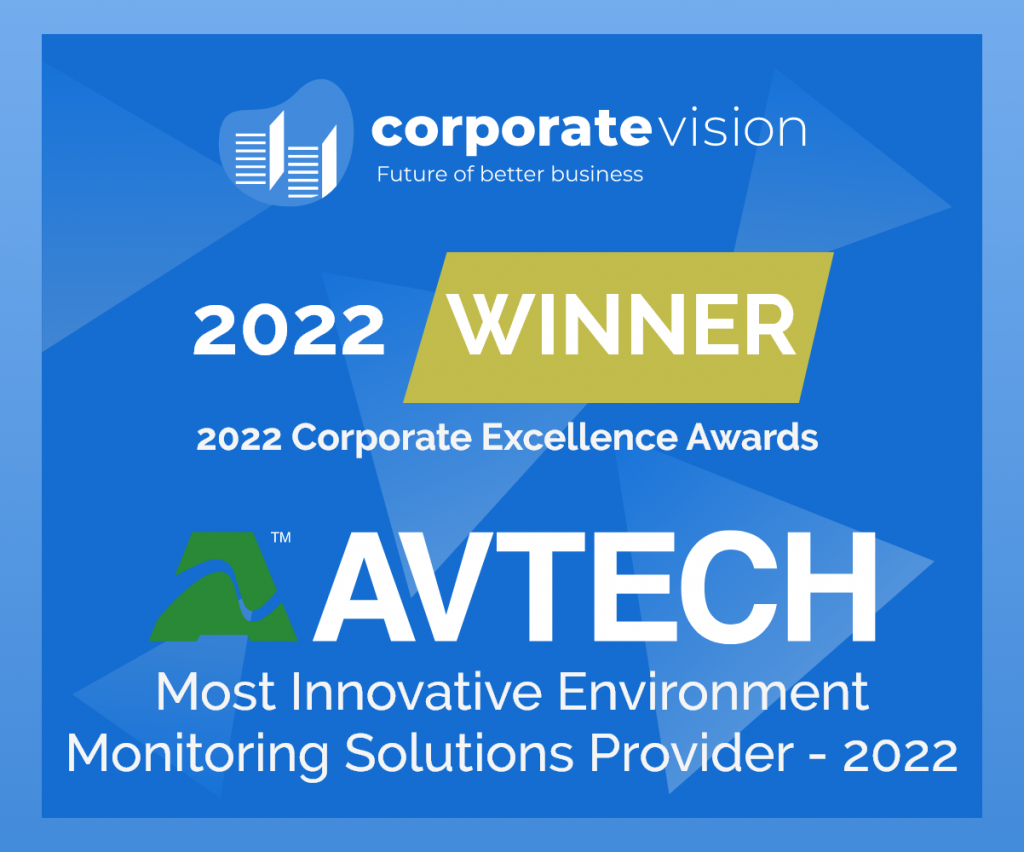 Corporate Vision Magazine in the UK recently announced Room Alert & AVTECH as their "Most Innovative Environment Monitoring Solutions Provider 2022" award winner! Our team is honored to receive this Corporate Excellence Award. It speaks to the incredible work that we've been doing to further develop Room Alert as the best environment monitoring solution for any business, organization or facility. 
Room Alert is an extremely innovative platform because we are constantly creating new features and improving existing capabilities to enhance the user experience. For example in the Room Alert Account online dashboard, we've most recently added assigning user roles, external sensor capacity, sensor data & reports for compliance and worker safety, and order lookup functionalities. Beyond just software, we also invest a massive effort into expanding our Room Alert hardware with monitors, sensors and accessories for every need. Just last month, we launched the Digital Temperature & Air Flow Sensor. This professionally designed sensor monitors airflow (or lack of airflow) for fans and vents, such as HVAC vents, internal/external server exhaust fans, cooling fans, and dehumidifier fans. 
AVTECH is dedicated to innovating and perfecting Room Alert as the most advanced and secure proactive environment monitoring solution available.
You Need To Be Monitoring Your Environment With Room Alert
Environment monitoring is a crucial part of effective Business Continuity Planning and Room Alert is the most comprehensive solution for protecting people, property, and productivity to provide peace of mind. Room Alert helps businesses, organizations and facilities of all types and sizes prevent the 30% of downtime that is caused by environmental factors. Room Alert monitors, sensors, accessories and software work together to proactively oversee all of the conditions within your environment, such as temperature, humidity, flood and power. 
Once installed, Room Alert immediately starts working as attentive and accurate eyes on-site 24/7. Room Alert will promptly text or email you custom alert notifications anytime a change in your environment is detected. Room Alert can notify you of an increase in temperature and humidity that threatens worker safety and OSHA compliance, flooding and water damage due to a hurricane, an unexpected power outage, and so much more. Room Alert buys you and your team time and provides peace of mind. Room Alert keeps you in the know so you have as much time as possible to take corrective action and stop irreversible damage in its tracks. 
Room Alert delivers unparalleled environment monitoring and our team is happy to work with you to understand exactly what you need for your unique application.
Contact Us
If you have any questions, please contact us today through email at Sales@AVTECH.com, through our online Live Chat service, or via phone at 401.628.1600.       
You can also visit our YouTube Channel and read our articles here to learn many other reasons why you need Proactive Environment Monitoring with Room Alert.