Room Alert Is The 2019 TMC Data Center Excellence Award Winner!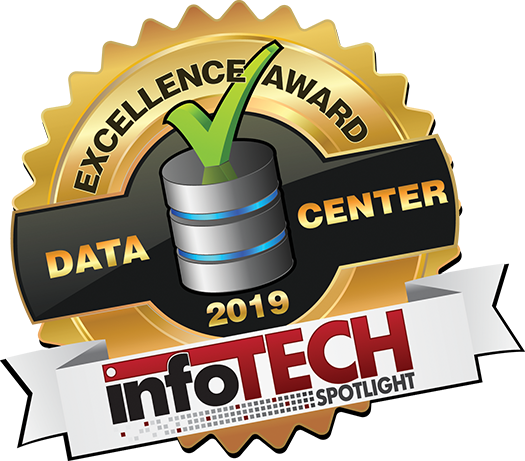 AVTECH Software has been named a 2019 infoTech Spotlight Data Center Excellence Award Winner. We are so incredibly proud of our dedicated team for providing data centers, server rooms and other IT facilities with Room Alert, the most advanced and secure proactive environment monitoring products available.
We are thrilled AVTECH is once again acknowledged as the market leader in IT & Facilities Environment Monitoring. AVTECH was founded in 1988 and now 32 years later, Room Alert is the most popular product of its kind worldwide. Room Alert monitors and sensors are trusted in data centers and other technology spaces across 186 countries, on Antarctica, and even in space.
We are especially proud to receive this award just as the new Room Alert 32S was launched, our most advanced, most secure and highest capacity Room Alert yet. The Room Alert 32S offers HTTPS/SSL web interface, SSL/TLS email notifications, multiple versions of SNMP, 2048-bit encryption, SSL push for Room Alert Account and more.
Data centers and IT spaces that strive for excellence trust Room Alert for comprehensive environment protection. 59% of data centers say downtime lasts ½ a day or more, while 27% of data centres say downtime lasts 1-3 days. Without Room Alert, this spells disaster and possibly even bankruptcy for many. Our consistent excellence in environment monitoring in data centers and IT spaces has resulted in the following recent recognition:
Disaster Recovery Institute International 2020 Product/Service of the Year Finalist
Insights Success Magazine 10 Innovative Companies Disrupting Sensor Technology Award
International Trade Council Innovation Product of the Year Award
Internet Telephony Magazine Network Security Excellence Award
And many more!
Environment monitoring is often overlooked with 75% of small to midsize business reporting they don't have any form of environment monitoring installed. IT facilities heavily contribute to the success of the entire organization by allowing people to service customers, communicate efficiently and more. It is crucial to implement Room Alert for business continuity and proactive disaster recovery before disaster strikes.
Did you know that 30% of costly downtime is caused by environment factors such as extreme temperature, humidity, power loss, water damage or flooding, poor air flow, smoke or fire, and more? All of these are conditions that Room Alert monitors and can send alerts for.
Proactive environment monitoring with Room Alert demonstrates a clear understanding of preventing costly downtime in data centers. If your organization is backed by Room Alert, you proactively reduce the likelihood and extent of costly downtime because Room Alert will track changes in your environment. Then, through our RoomAlert.com Account portal services, Room Alert will send you notifications via text, email or HTTP post based on custom thresholds that you assign. We offer sensors to monitor temperature, humidity, water, smoke, airflow and so much more.
If your facility is short-staffed, or you are managing from a remote location, you can check your account via RoomAlert.com on any internet-accessible device at any time. This will quickly provide you with up to date and accurate information on the environment conditions in your data center.
Room Alert is the easiest, most dependable solution to increase uptime, save money and resources, and prevent costly downtime. To learn more about ways Room Alert can help your data center, you can read our articles about pipe leaks, extreme heat, power monitoring, humidity, downtime, server cabinets, business continuity, temperature and automatic corrective action.
Contact Us
If you have any questions or would like additional information on how Room Alert is a necessary part of any business continuity plan to protect against costly environmental damage such as water leaks and high temperatures, please visit our YouTube Channel or email us at Sales@AVTECH.com. Visit our Contact Page for more information.
Be sure to read more of our articles here to learn many other reasons why you need Room Alert to prevent unnecessary and costly downtime. Protect Your Facility… Don't Wait Until It's Too Late!