Upgrade To Lifetime Room Alert Account During Our Promo For The Savings Of A Lifetime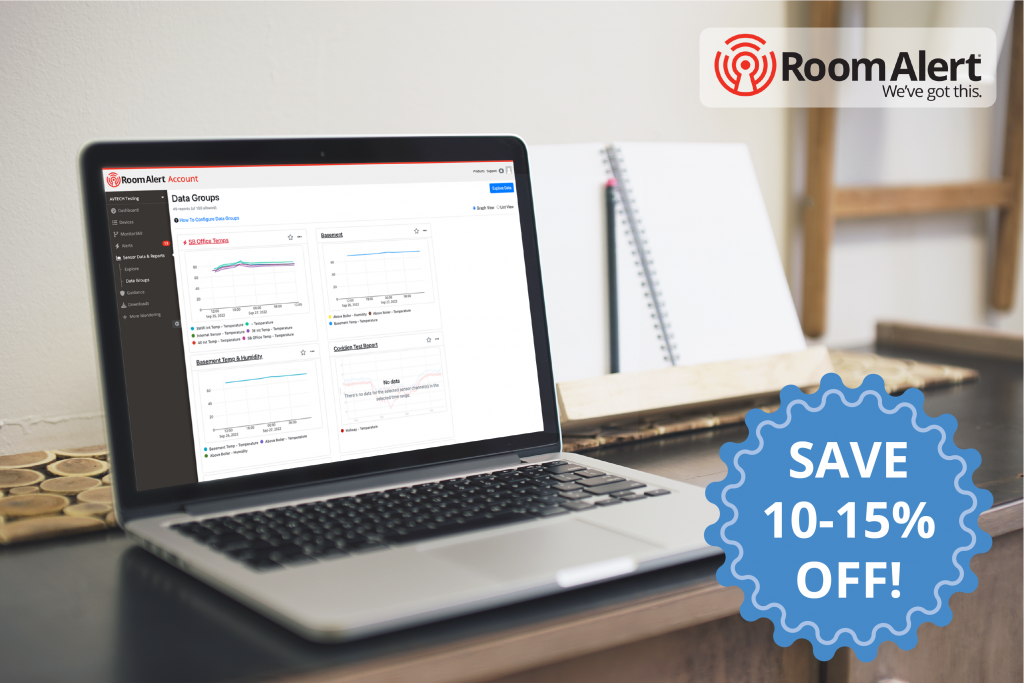 There's never been a better time to upgrade to Lifetime Room Alert Account! From November 1st until December 31st, 2022, Room Alert Account customers can save big and lock in their environment monitoring for life. This locks in today's pricing forever and avoids the need for any future renewal service. For those who are currently on the non-Lifetime Professional tier, you will receive a great 10% discount if you upgrade to Lifetime Professional. Additionally, for Room Alert users who upgrade to Lifetime Enterprise tier or higher, you will receive a 15% discount!
Room Alert Account is an online dashboard where users can easily manage all of their Room Alert monitors from any internet-accessible device.
In Room Alert Account, customers can easily manage and monitor temperature and environment conditions, create custom reports for temperature logging or environment sensor logging history, receive alert notifications when environment conditions reach extremes, view a map showing environment conditions in remote facilities and much more.
Professional Tier Room Alert Account
On our popular, Professional tier Room Alert Account customers can  
Register an unlimited number of users

Register up to 25 devices

Create up to 10 sensors in our patented

Monitor360

technology

Customize up to 25

advanced alerts

with multiple actions/ receipts, scheduled quiet/ delay times, escalation of actions and fully customizable alert messages

Utilize Room Alert Manager

for on-premise local monitoring  
Professional tier Room Alert Account is absolutely critical for any and all professional facilities, businesses and organization that does not want to fall victim to the 30% of costly downtime and damage caused by environmental threats.
Enterprise Tier Room Alert Account
Enterprise tier Room Alert Account offers everything available on Professional with increased capabilities along with Enterprise-exclusive features such as 
Unlimited registered users

Up to 50 registered devices

Up to 25 links in

Room Alert Link

 

Data retention

for up to 365 days

Up to 25 sensors in our patented

Monitor360

technology

Up to 75 custom-configured alerts

Up to 25 custom reports/graphs
Enterprise-Exclusives – User Roles And SAML & Single-Sign-On
Our Enterprise-exclusive features, available on all Enterprise tiers or higher, include assigning user roles and SAML & Single-Sign-On (SSO) functionality. Assigning user roles is a great management tool for controlling exactly what the registered users in your Room Alert Account have access to. There are five types of user roles that you can assign to every registered user on your Room Alert Account: Administrator, Provisioner, Operator, Viewer and a Billing role. Each user role has varying levels of access to view and edit information. Assigning user roles helps you streamline who has access to what and increases your overall security. 
SAML Single Sign-On adds convenience for users, is highly secure and helps users maintain industry compliance for security and cybersecurity. With SAML enabled, your employees won't need to memorize a long list of passwords for their different accounts and therefore are more likely to create complex and hard-to-guess passphrases. Employees are less likely to reuse passwords or write them down, which reduces the risk of theft. SAML & SSO dramatically decreases the potential risk of your employees exposing their personally identifiable information (PII) such as passwords to various web apps. For administrators, SAML allows centralized user management for everything from password complexity to quickly relinquishing login privileges when an employee joins or leaves an organization. If you are a company that is already using SSO, then once you configure it for our online Room Alert Account, any employees assigned to that Room Alert Account will only be able to log in through SAML. Your employees will no longer need to access Room Alert Account through RoomAlert.com with a standard username and password.
Lifetime Room Alert Account
Lifetime Room Alert Account is the best way to ensure your account never expires and your sensor data, alert lists, maps, reports and more will always be available when you need them. Lifetime subscriptions are non-expiring and completely independent of the hardware that you purchase. If you buy new Room Alert monitors or upgrade your current monitors to larger Room Alerts (or future new releases), your Room Alert Account service will remain in place with no additional charges or fees, unless you opt to upgrade to a higher tier for more capacity. Purchasing a Lifetime Room Alert Account subscription, with one easy payment, removes any hassle due to missed renewal notices caused by users retiring, changes to budgets, internal policy changes, job turnover and more. Lifetime Room Alert Account is also ideal for organizations who are required to purchase plans based on budgets and fiscal years, such as government organizations, schools & universities, and municipalities.
During our incredible Lifetime Room Alert Account promo, you can receive 10% off Lifetime Professional and 15% off Lifetime Enterprise from now, November 1st, until December 31st, 2022.
Contact Us
If you have any questions about our Lifetime Room Alert Account promo, please contact us today through email at Sales@AVTECH.com, through our online Live Chat service, or via phone at 401.628.1600. 
You can also visit our YouTube Channel and read our articles here to learn many other reasons why you need Proactive Environment Monitoring with Room Alert.